Mt. Joy had an unusual upbringing into the music industry that most artists don't typically see. Their debut single "Astrovan" was initially released in 2016 and was instantly picked up by the folk-rock scene on Spotify, giving them millions of streams in a matter of months. The single was so successful they decided to expand their band to a five piece and begin a constant trek of touring for the next three years.
Their noteworthy song writing skills paired with the incredible live talent they project onstage landed them a spot opening for The Lumineers on their 2020 North American tour. Despite Mt. Joy headlining a show in Toronto only a few months ago, numerous fans arrived early to catch the band from Philadelphia.
The ultra-relaxed nature of this band saw their own members setting up equipment before the gig, only to instantly turn into rock stars once the show started. They began with two of their most distinguished tracks "Jenny Jenkins" and "Astrovan," verifying the crowd's decision to arrive early.
From there they tested one of their new songs "Let Loose," which lyrically depicts growing old within a complicated relationship. What seemed like the calming ballad of the night, quickly transformed by ending with a Neil Young worthy guitar solo bringing everyone back to the 60s and 70s. Their entire set emitted Buffalo Springfield energy, where their folk driven songs were instantly enriched by guitarist Sam Cooper's rhythmic style of playing.
Mt. Joy continued to grace the crowd with their socio-political tune "Sheep" and gave fans another peek into their new album with "Strangers." Piano player Jackie Miclau led "Strangers" into one of the best parts of the evening where all five members seemed to be on cloud nine. This new song sees vocalist Matt Quinn embrace the groovier side to folk music, where his acoustic playing contrasts perfectly to Cooper's electric guitar licks. The moment couldn't have been made possible if Miclau didn't put her own twist on things, which saw the piano player channeling herself somewhere between Sebastian Bach and Billy Joel.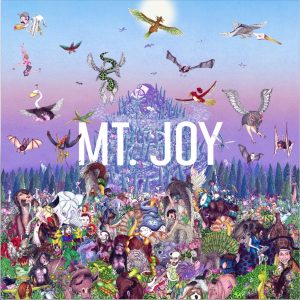 The new songs mixed in perfectly with the band's already prime setlist and only added to the show's quality. Before they ended, the band surprised everyone with a "Julia/Ain't No Sunshine/Clint Eastwood" mashup, bringing back those groovier tendencies mentioned earlier. To conclude, they sent off the crowd with a prevailing rendition of "Silver Lining," which left many displeased with the fact that the show was now over.
Mt. Joy's musical camaraderie on stage is something you don't see every day. It's shocking how well connected each of the five members are on stage, considering their bass player was found via Craigslist. The musical forces of the universal placed these musicians together at just the right time to create one of the best live bands touring today. Watch out for Mt. Joy coming to a town near you and stay tuned for their sophomore album release in early June.
MT. JOY UPCOMING TOUR DATES:
March 6 — Montreal, QC @ Bell Centre*
March 7 — Ottawa, CA @ Canadian Tire Centre*
March 10 — Louisville, KY @ KFC Yum! Center*
March 11 — Milwaukee, WI @ Fiserv Forum*
March 13 — St. Paul, MN @ Xcel Energy Center*
March 14 — Omaha, NE @ Century Link Center Omaha*
March 15 — Oklahoma City, OK @ Tower Theatre*
May 2 — San Luis Obispo, CA @ Shabang Festival
May 15-17 — Gulf Shores, AL @ Hangout Music Festival
May 19 — Tampa, FL @ The Ritz Ybor
May 21 — Fort Lauderdale, FL @ Revolution Live
May 22 — Lake Buena Vista, FL @ House of Blues Orlando
June 11 — Isle Of Palms, SC @ Windjammer
June 12 — Wilmington, NC @ Greenfield Lake Amphitheatre
June 13 — Manchester, TN @ Bonnaroo
July 10-12 — Marshfield, MA @ Levitate Festival
July 11 — Greenfield, MA @ Green River Festival
July 13 — Morrison, CO @ Red Rocks Amphitheatre^
July 14 — Morrison, CO @ Red Rocks Amphitheatre^
August 2 — Saint Charles, IA @ Hinterland Music Festival
^ = with Rainbow Kitten Surprise