Rap metal band Body Count is back with the upcoming seventh album Carnivore. The band is known for combining heavy music with a straightforward lyricism, but this time they proved they can be even more hardcore with a lot of thrash metal influence in their sound.
The first single "Carnivore" that's been out since December already gave us a bit of taste of hardcore and showed us what we can expect on the rest of the album. "Humans are animals, pretty much in denial of just how savage we can be," declares singer Ice-T. "The songs on Carnivore play out that theme in different ways. It's not about a diet; it's about being bloodthirsty creatures."
The second track is a cover of Motörhead's "Ace of Spades" and it's a tribute to Lemmy. It starts with kind words about Motörhead's influence on Body Count which made this cover more unique. The bend did an amazing job with this one. Speaking of covers, another interesting thing on this record is that Ice-T turned two of his gangsta rap hits "Colors" and "6 In Tha Morning" into heavier, rap-metal versions.
The song that stands out the most is definitely "When I'm Gone" which was written after Nipsey Hussle's tragic death. It features Amy Lee (Evanescence) whose powerful vocals are perfectly combined with the dark mood of this song, making it sound even more emotional. There's a strong message behind the lyrics of how we shouldn't wait for someone to die to tell them we love them. It gives me chills for real and the part that's really stuck with me is "Don't wait for tragedy to tell 'em how you really feel, don't wait, tomorrow might be too fuckin' late". I'm sure that everyone can relate to it and that this song will be one of the most popular ones.
There are two more notable features on the album. "Point the finger" which features Riley Gale (Power Trip) is such an aggressive song about gangs and shootings and "Another Level" featuring Jamey Jasta (Hatebreed, Kingdom of Sorrow) with the even heavier beat. It's about hustling and achieving their goals and presents a big fuck you to those who doubted them.
"Hate Is Real" talks about racism and problems people of color are facing in America. I'm glad they mentioned this topic too since it's a real issue and maybe the lyrics can open people's eyes and show them how much hate and discrimination are around them.
Carnivore is due out March 6, so if you're a rap-metal fan and wanna hear something new and refreshing, go check it out.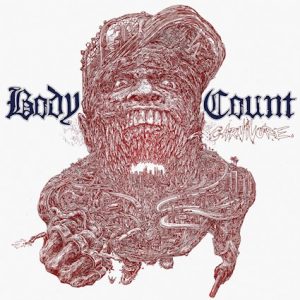 Track Listing:
Carnivore
Ace Of Spades
Point The Finger (feat. Riley Gale)
Bum-Rush
Another Level (feat. Jamey Jasta)
Colors – 2020
No Remorse
When I'm Gone (feat. Amy Lee)
Thee Critical Beatdown
The Hate Is Real
6 In Tha Morning – 2020 (unreleased demo)
Body Count:
Ice-T – lead vocals
Ernie C. – lead guitar, backing vocals
Juan of the Dead – guitars, backing vocals
Vincent Price – bass, backing vocals
Ill Will – drums
Sean E. Sean – sampler, backing vocals
Little Ice – hype man, backing vocals