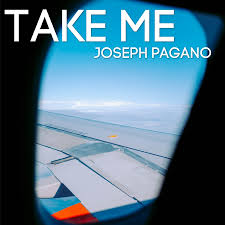 Joseph Pagano's "Take Me" is a single with tons of moxie and pop attitude for an EDM track, but that is probably why it works so well. It doesn't matter what age group you're in, or whether or-not you even like EDM music. This is done with the utmost integrity and respect to both ends of the musical spectrum and is something very hard to tire of in its excellent delivery of eclectic sounds. There's a lot of directions to go these days and this is an artist with a laser sharp aim directly at his targets and hits them in the bullseye.
The track begins with singing about "looking for a quiet place to make sound," and proceeds to carry on about it from there, luring the listener into whatever they please. The repetitiveness is a minimal feature as the magic weaves around it with a pop-structured lyric that also borders on some R&B style vocals by Joseph Pagano. The keyboards/synth involvement is heavy, but well played against the vocals for what is an excellent number altogether. It's not very often that you hear this sort of mainstream attachment to EDM, even though it is a pop-ish genre in spirit.
SOUNDCLOUD:
This versatile musician brings strong values to the EDM genre with a mix of that and what he does best, which is overall songwriting, it just fits in a way like that of no other. And this can even be considered a comeback of sorts to his fans, so it serves as a solid one to my ears, which had never heard this talented songwriter before. There is no difficulty is figuring out where it comes from and where it's going, without already being familiar with him. Now I can say that it's worth it to look more into what Pagano has been doing all these years.
"Take Me" is mesmerizing good, with a hypnotic vibe that won't quit, particularly in the synth department, and that is why it's a good introduction to him for me but intriguing all-the more concerning his background. Those who already know his work will likely be pleased and fulfilled after waiting some time for this release, but it delivers to them and a new audience, no question about it. The song almost plays like he's reluctant to be heard while crafting something new for the people to dance to and hear a message in the process.
The identification of being broken is what connects the listener to the artist on this cut with lyrics pertaining to the general discomforts of entertaining a crowd, and that's what EDM is all about but you usually don't hear it with such depth. This is something of a trademark Pagano has and it comes out in this song with a clear and present honesty you don't get from music this dance oriented. It's also a milestone coming from a male artist who clearly knows how to write and arrange any genre of music chosen, so "Take Me" is executed with the best of 'em.
Loren Sperry