---
The glitter punk/glam rock sensibility that was everywhere in the 1970s and 1980s has long fascinated me. Those musicians who went all out to tie their aesthetic to their sound made for some of the most interesting auditory experiences around. Recent music trends have ventured away from the visual elements – there are those who even go as far as insinuating that looks detract from the "authenticity" of the sound. It's a blessing that there are still musicians out there flying the flag for all things audaciously extra. 
Glam Punk outfit Starbenders is delightfully refreshing to a minimalist music scene. Hailing from Atlanta, Georgia, this four-piece was formed by vocalist and guitarist Kimi Shelter and completed by bassist Aaron Lecense, guitarist Kriss Tokaji, and drummer Emily Moon in 2014. Starbenders came together seemingly by happenstance. But for Shelter, their union was anything but random. "I personally don't believe in chance. The mechanisms of the universe are far too intricate to lend themselves to clumsy encounters. I knew I belonged to Emily, Aaron and Kriss in the moment of contact… Bands are like cars, the thing either rolls or it doesn't. You can't really fake that side of things. We wouldn't have gotten down the road if it didn't feel right." 
Starbenders released their debut album Heavy Petting in 2016, as well as three EPs smattered across their six year career. Now, 2020 sees the release of brand new album Love Potions, suitably released on Valentine's Day. "The record was in the making for the last thirteen months and when the time of completion arrived, we were on Valentine's front door step," lead singer Kimi Shelter explains. "Usually synchronicities are everywhere when you're on the path."
Love Potions really is an exceptionally enjoyable listen; regardless of the mood you're in, its sultry, smooth melodies complement and soothe. It's an eclectic album, with every song presenting a different side of this multidimensional band, but each still carrying through the common thread of Starbenders' energy and vision. When these songs are compiled, Love Potions makes complete sense.
"In books and fables, love potions usually come with warnings attached to them. People are always cautioned that these magical tonics are unpredictable and usually lead to unintended outcomes. Our record plays out in similar ways that a love potion could. Where will it possibly take you?! Only Gods and ghosts know. Each story has a different ending."
Kimi Shelter ranges from angst-ridden bellows, to melodic tones. "BITCHES BE WITCHES" features penetrating, unsettling vocals that Joan Jett would surely appreciate set against gothic electronica and morbid riffs. This Glam-Punk group don't shy away from pop either: "Down & Out" is that kind of glorious '80s soft rock that'd plague John Hughes films. Whichever mood Starbenders encapsulates with their songs, the overall sound is unfailingly organic and well-crafted. I truly believe that's down to the production method for Love Potions – this album was recorded "as live."
"The mystery and mythology that animated punk, glam and rock and roll of bygone eras is really inspiring. We always invite that energy to guide us while making what we believe to be, contemporary pop records. Most of what you'll hear was recorded live with all four of us playing at the same time because we celebrate interplay and jamming," Shelter explains. "We sprinkled some overdubs here and there. Our producer Nico brought in live string players: violin, viola and cello for two songs on the record. That was an emotional moment for me hearing it all come together. Everyone brought themselves entirely to the sessions and it was humbling to see and hear my band mates invoke their magic full force. "
Starbenders' aesthetic completes their vision, and to skimp on the visual side of their art would be an insult to their sound. The album art for Love Potions is just the right balance between psychedelia and mysticism. They say don't judge a book by its cover, but I doubt I'd see a better visual representation of a track listing anywhere else.
"We really wanted to go for it.  We used a young artist named Audrey Herbertson who's based in LA. Her vibe and art connected with us and she went to the races. We were instantly sold."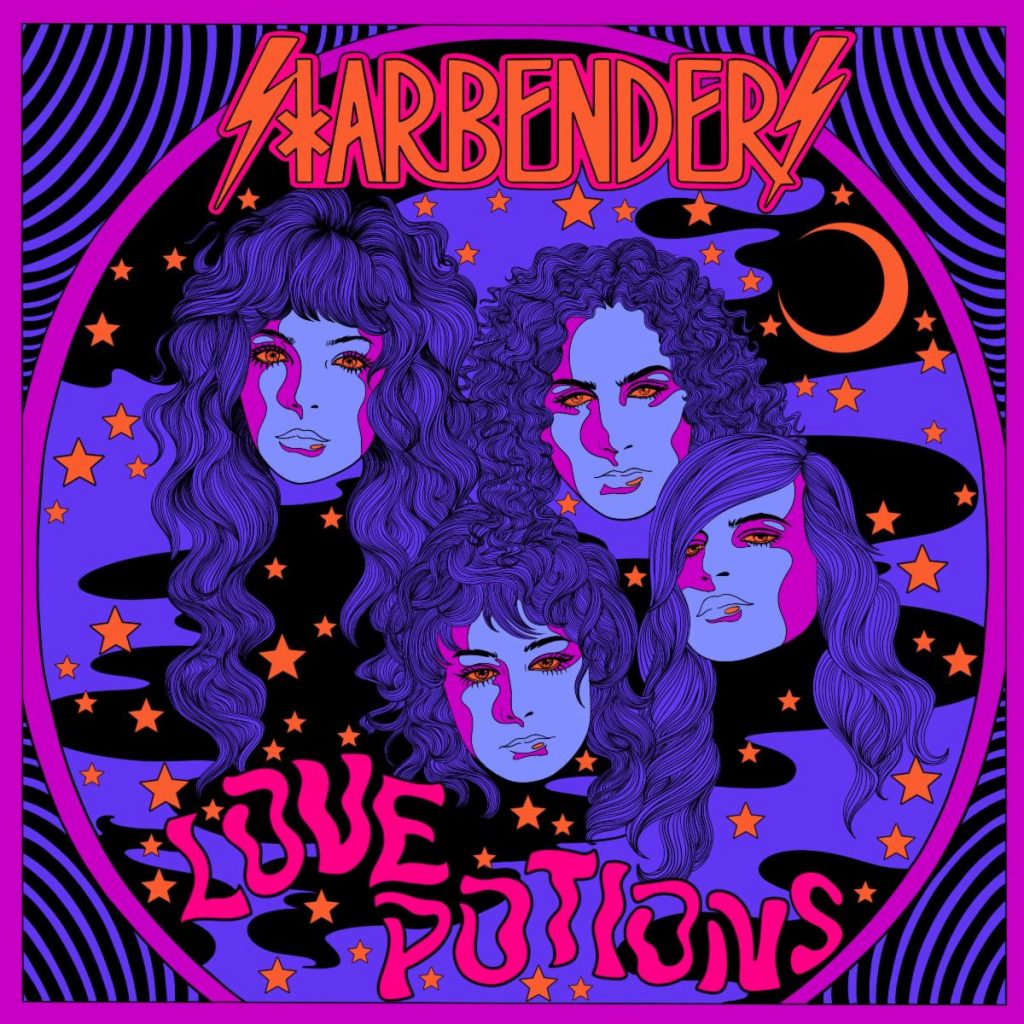 Meanwhile, the music video for album single "London" is an adventure. Music-fueled alien cryptids gallivanting about a forest chased by astronauts maybe isn't most people's first thought when listening to this mellow rock track. With such an intricate and unusual plot for a music video, it's no surprise to see the logo for Dominar Films pop up in the credits.
"That's 100% the magic of Ben and Katie Roberds (Dominar Films). Ben is a genius and everytime we work together, we encourage him to let it rip," explains Shelter, who doesn't seek to stifle another's creativity, and instead gives others the opportunity to showcase their own talents where possible. "I think it's important to provide room for other artists to do their thing when you're collaborating, unless that's one of your passions. For us, it's all about the music. The world and stories Dominar creates for us fit hand in glove."
This team of filmmakers has been responsible for some of the rock scene's most memorable MVs in recent years, with Grammy nominees Nothing More's "Let 'Em Burn," I Prevail's "Rise," and pretty much all of Don Broco's most recent work including "Everybody," "Pretty," and "Greatness" on their roster. Their ability to collaborate and build on an artist's creativity is a sure sign for success.
"I love seeing the look on people's faces when it hits them that they're hearing "live" music. Funny right? It's similar to how hard it is to find a vegan salad. Fucking irony."
With all these bases covered, Starbenders have managed to secure their status as a great all-rounder artist. How these sonic experiences will translate to a live show is anyone's guess (unless you're fortunate enough to already have seen them live), but their "as live" recorded album and penchant for extravagant visuals leads me to believe they'd put on a good show. Even though there are plenty of gadgets to help out musicians playing live, it's refreshing to hear that this lot aren't afraid to take the plunge and occasionally let their own talents do all the talking. "Songs like 'Push' are exciting because we don't run any tracks. I love seeing the look on people's faces when it hits them that they're hearing "live" music. Funny right? It's similar to how hard it is to find a vegan salad. Fucking irony."
Kimi seems confident about their stage presence, anyway, believing that there isn't a soul in the universe who wouldn't be up for a good time: "I think a hole will open in the roof and we'll be abducted by aliens that want what we're having."
Starbenders will support Doll Skin on their upcoming US tour next month, and will also accompany The Struts for a special one-off show in their hometown this June. Dates below: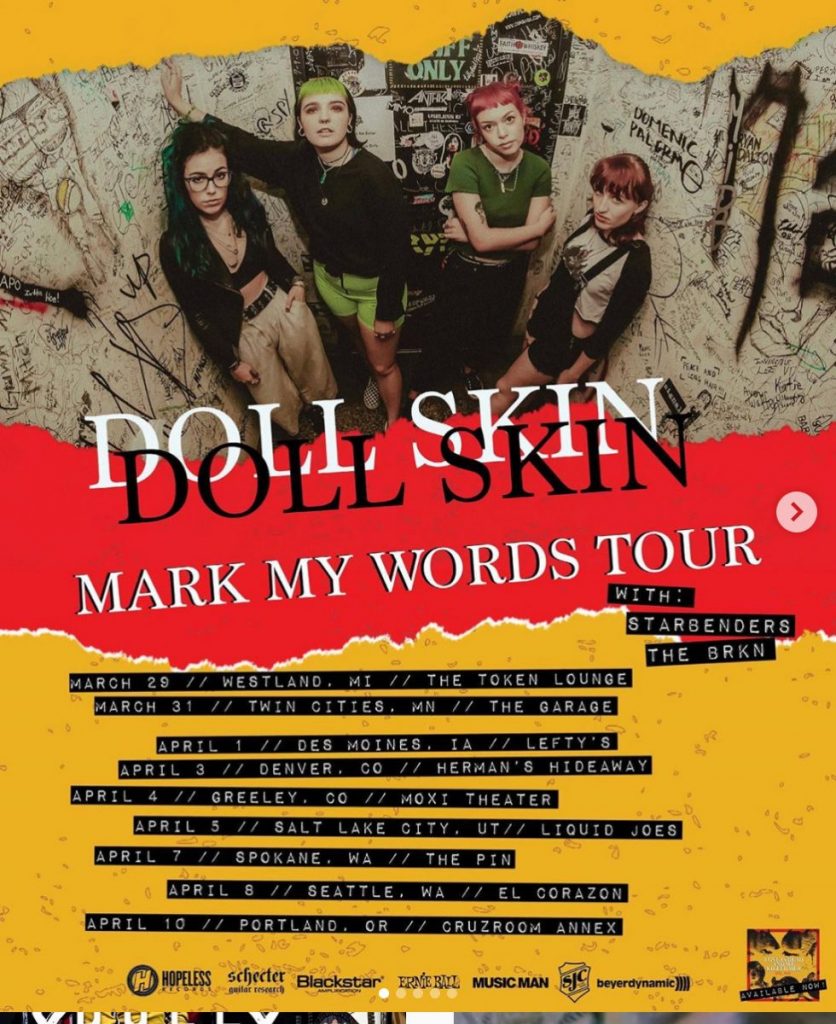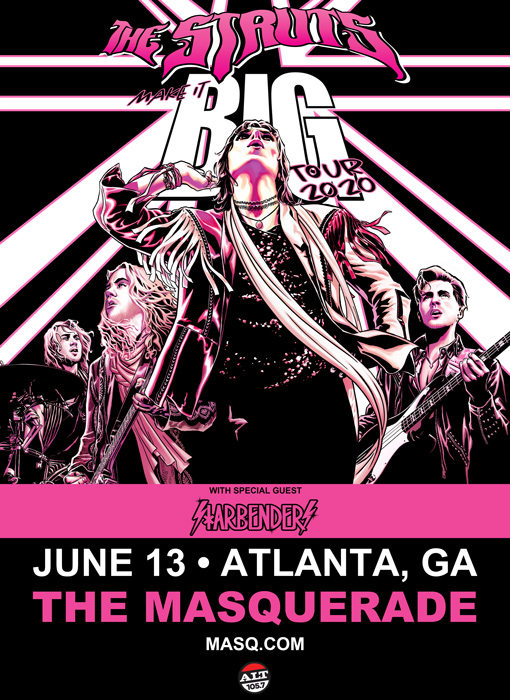 Check out the video for "London" now: