Progressive metal group, Sons of Apollo, has returned with their second album, MMXX (2020), which builds upon the foundation they laid with 2018's Psychotic Symphony. And the group is also building upon the chemistry they developed while out supporting their previous album, on their new tour, which started at the end of January in North America until 2/8/20 and then heads overseas to Europe and South America from the end of February and into April.
The band returned to the Arcada Theatre in St. Charles, IL. (Chicago suburb), which drummer Mike Portnoy has dubbed his home away from home since he's played there so many times (4 times in the past 12 months with 4 different bands!) the venue has dedicated a dressing room in his honor, with a picture of him and a signed drum head on the wall.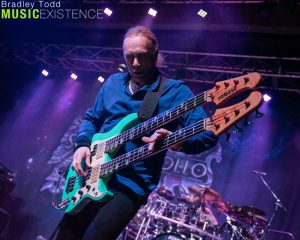 The group's stage setup was similar to their prior tour: it's sparse, consisting of a drum riser on one side and a keyboard riser on the other, with some amplifier's spread around. New for this tour is a stage backdrop with the MMXX album artwork.
Also similar to the prior tour…the ferocity which with this band can perform. Much has already been said about the musical pedigrees of the SOA members and their collective musical talents, and the St. Charles show was reflective of that. It had a little bit of something (or maybe a lot!) for every fan of progressive metal and rock: Aggressive, yet cerebral guitar solos (Ron "Bumblefoot" Thal), relentless, groovy, bass runs (Billy Sheehan), wonderful keyboard jams that were a perfect mix of classic and modern tones (Derek Sherinian), electric drumming (Mike Portnoy), and soaring vocals (Jeff Scott Soto).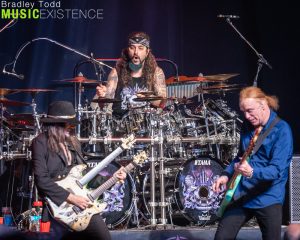 But the night was also one of mourning and remembrance, as Kobe Bryant passed away a few days earlier. Singer Jeff Scott Soto honored Kobe's memory by wearing a Lakers basketball jersey and purple and gold wristbands on his left arm. Tribute was also paid to recently deceased Rush drummer, Neil Peart, by playing Rush's hit, "Tom Sawyer." The third and final tribute of the evening was to departed friend and fellow musician, David Z, who passed in an auto accident while on tour in 2017. Sons of Apollo performed "Desolate July," a song in his memory, from the new album.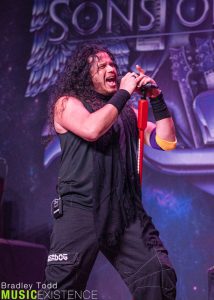 The show ended on a high note, as the band brought out opener Tony MacAlpine to join them in a raucous cover of Deep Purple's "Burn" (see gallery below), and then closed with the anthemic "Coming Home", which was appropriate for Drummer Portnoy, given his affection for the Arcada Theatre.
GALLERY BELOW SETLIST
SETLIST:
Goodbye Divinity
Fall To Ascend
Wither To Black
Signs Of The Time
Asphyxiation
Labyrinth
Bass Solo
Lost In Oblivion
Desolate July
King Of Illusion
Alive
New World Today
Figaro's Whore
Keyboard Solo
God Of The Sun
Burn (Encore)
Coming Home (Encore)