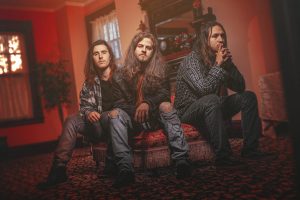 Pennsylvanian rockers Another Day Dawns have just released their newest EP Stranger which features 5 tracks. With Dakota McGeehan's signature vocals, Nick McGeehan on drums and Tyler Ritter's guitar skills, the three-piece teamed up with a producer Joe Rickard for this release.
The record starts heavy with "Beautiful Suicide" and "Am I". Both tracks are such a banger – excellent material for live shows that can easily move the crowd. But then the vibe changes with a very emotional acoustic song "Never Okay". It's a much more personal and mature tune with powerful lyrics about self-thoughts – definitely something every fan can relate to.
"Taste Of Heaven" is a really catchy song with a modern rock sound. The goth-vampire inspired music video adds to the darker mood of this track. You can check out the official music video down below:
The EP ends with another hardcore track "Forget Me Now" leaving me wanting to hear more. What really impressed me is how the band managed to wisely combine both havier and slower sound which makes Stranger the perfect presentation of their originality.