Last week in Toronto, two Southern Ontario soon-to-be rock stars took over The Horseshoe Tavern for a sold-out night of rock n' roll revelry. Over the past year, The Blue Stones have been building up their rock n' roll repertoire along with garnering an impressive reputation for the band's high-spirited live shows.
The night began with their current single "Shakin' Off The Rust", which has seen solid streaming success along with recently being named No. 1 on Billboard's "Canada Rock" chart. The single will presumably be a part of the band's yet-to-be released sophomore album, which was teased throughout the evening when the band played unreleased songs they'd been working on in the studio.
From there they followed into "Be My Fire" and "Magic", along with an unforeseen rap breakdown which the crowd loved. A quick story time allowed for the band to explain how industry executives initially didn't give The Blue Stones a chance, due to criticisms about their rock sound having too much of a pop influence. Reluctantly, the band stuck with a sound they believed in and continued to combine electrifying guitar solos and big drums with impressive studio production techniques.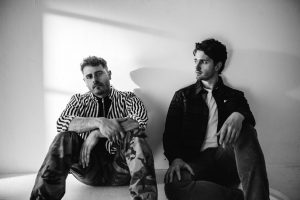 The band's resilience clearly paid off as they concluded the evening with "Black Holes (Solid Ground)", the track that started it all and has hit almost 18 million streams on Spotify alone.
With the support of the rock community behind them, The Blue Stones will continue to carve out their own path in this industry by sticking true to a sound they believe in. Expect to see a lot more of The Blue Stones in the near future, as their arena rock attitude won't fit inside small clubs for long.
The Blue Stones Online: Website | Facebook | Instagram | Twitter