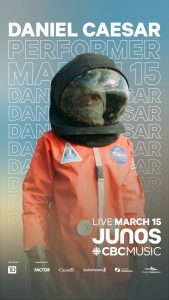 Celebrating the best that Canadian music has to offer, the JUNO Awards rolled out their 2020 nominations earlier today in Toronto.
Alessia Cara led the way with six nominations including "Artist of the Year", and has also been selected to host and perform at this year's ceremony. Fellow Canadians Daniel Caesar, Lennon Stella, The Glorious Sons and Tory Lanez will also perform at the awards taking place on March 15th in Saskatoon, Saskatchewan.
Some of the biggest surprise nominations were seen in this year's "Breakthrough Group of the Year" category, where nominees included Palaye Royale, Valley and The Blue Stones. Last year The Blue Stones made Music Existence's Artists To Watch 2020 list and have already had an active year embarking on a North American headlining tour. Previous winners in this category include The Beaches, The Sheepdogs and Rush.
Fans will also have the opportunity to vote in the annual "JUNO Fan Choice Award", which is the only category where fan votes count. Nominees include Alessia Cara, Ali Gatie, Avril Lavigne, bbno$, Justin Bieber, Loud Luxury, NAV, Shawn Mendes, The Weeknd and Tory Lanez.
The JUNO Awards will broadcast live on Sunday, March 15 at 8 PM ET.