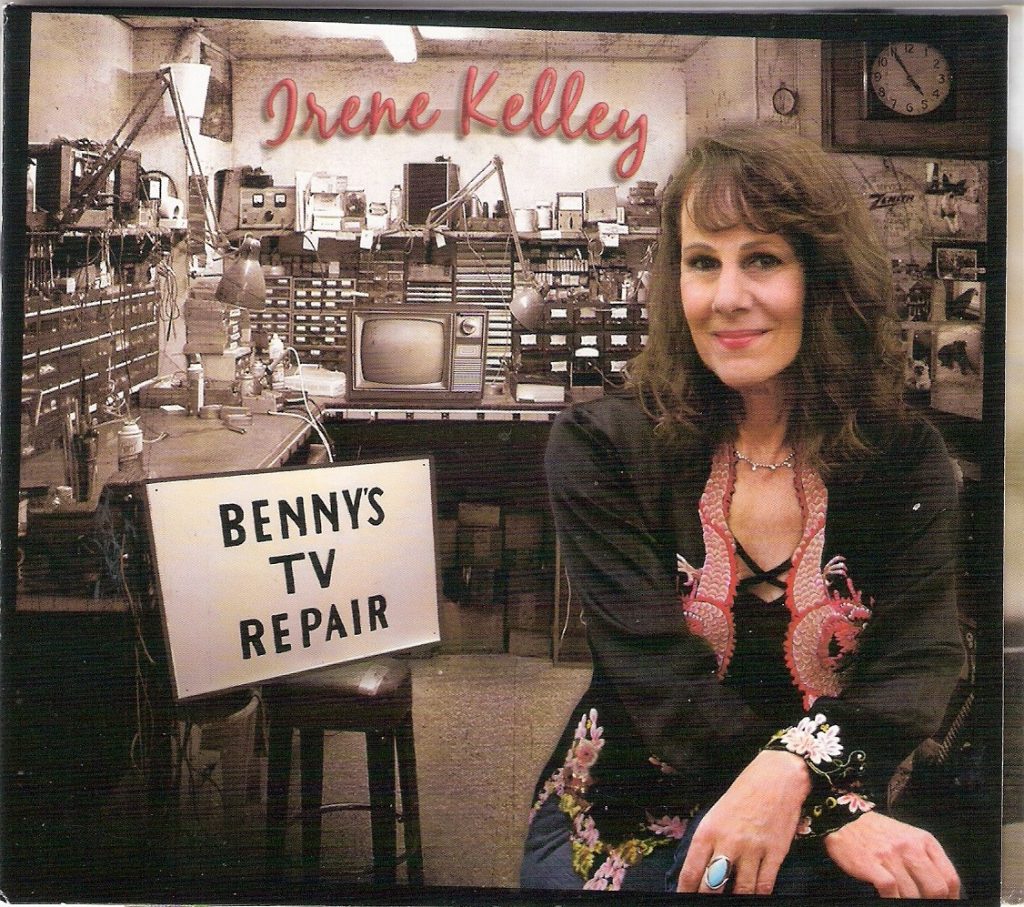 The underlying groove in the title track of Benny's TV Repair, the latest album from Irene Kelley, comes out of the darkness swinging like pendulum, but it isn't until Kelley's voice enters the picture that it starts to feel as intoxicating as a summer glass of whiskey. Even amidst as subtle a beat as the one found in this song is, we feel an ounce of unvarnished emotion from our singer that is unparalleled in any other moment on the record in every beat, and although some have come to expect as much from Irene Kelley, she's inarguably continuing to raise eyebrows with this most recent trip to the studio.
INSTAGRAM: https://www.instagram.com/irenekelleymusic/?utm_source=ig_profile_share&igshid=ln37plbwp3s4
Kelley's singing is always dead-center in the middle of the mix in this LP, with songs like "Out Of Arkansas," "Highway Back To You," "Bluegrass Radio" and "Thunderbird" demonstrating some of her most alluring vocal work, but I don't know that she's going as hard at the verses as she did in her last release. She's taking a slightly more conservative approach to her lyricism in Benny's TV Repair, but steering clear of techniques that would have hobbled her sound beyond recognition. There's nothing wrong with evolving while staying loyal to your roots, and that's basically what's taking place in this album.
"Faster Than Angels Could Fly" and "Walk With Me Today," which together close-out the tracklist, would be really chilling live, and I think that while we get a good idea of how dynamic their structures are, what we hear in this record would likely pale in comparison to what it would be like from behind the glare of the spotlight on stage. Kelley is a country singer who needs a little extra space to spread her wings, and though this setting isn't especially limiting, I get the feeling that these two songs were conceived with a roaring audience's approval in mind.
The strings could have used a little more definition in "Cabbage Head" and "Something About A Train Sound," but other than that, nothing about the production style of Benny's TV Repair comes across to me as being subpar. One thing I will say is that regardless of studio bells and whistles, all of the content on this disc has the kind of substance that doesn't really need a lot of additional help to connect with listeners who love bluegrass and country music, and that isn't something I can say about a lot of the records making headlines this month.
AMAZON: https://www.amazon.com/Bennys-TV-Repair/dp/B07R463WRV?tag=linkfire03-20&ie=UTF8&linkCode=as2&ascsubtag=7e0320d3573774ceca2d0613bed6cc24
It's not her first hit, nor do I suspect it will be her last, but for those who are unaware of Irene Kelley's music, Benny's TV Repair presents a sizzling smorgasbord of her style in full-color audio. Bluegrass has quite the progressive pulse at the moment, and with artists like Kelley constantly redefining what that pulse will be driven by, it's rather difficult to say where the genre is going to end up in the 2020s. However, even considering my aforementioned statement, my gut tells me that LPs as original and uplifting as this latest cut are going to keep good Kentucky grooves alive for some time to come.
Trevor Garland