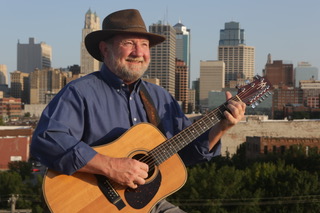 Kansas City based troubadour, Bill Abernathy is coming off a highly successful year promoting his latest album, Crossing Willow Creek.  With 4 hit singles off the record, and a few year-end critical mentions among the best of folk and roots music, Bill is taking the music to the fans on his "Living the Dream" solo tour.  We caught up with Bill just before the start of the tour, in this EXCLUSIVE one on one…
Music Existence: Hey Bill, been over a year since we last spoke.  How was your 2019?  What were some of the major highlights of the year?
Bill Abernathy: Wow. Crossing Willow Creek has been the project of the year and maybe a lifetime. With 4 singles being released, all charting well all over the world, I would have to say that is a major highlight. It's great to know that there are folks out there that appreciate what we do, what we have to say, and enjoy listening.

ME: What was your favorite show you performed and why?
BA: That's really tough as each show has its own life but I will attempt to pick one. We did a full band show with all the studio guys that played on Crossing Willow Creek. It was really humbling to share the stage with this group of outstanding musicians. The show was very well received and really started me thinking about doing a bit of touring.

ME: You're about to head out on the "Living the Dream" solo tour.  Tell us about it…where you're headed and what we can expect from the show?
BA: Living the Dream is really my way of reaching out to our fans and saying thank you for all the support. I will be playing solo on this tour, so folks will hear the tunes the way they were written. I am really excited about playing solo and sharing the stories behind the tunes. After all I really am just a storyteller with a guitar. I will be playing Houston and Austin, Texas, St Louis, Missouri, Denver and Alamosa, Colorado, and Albuquerque, New Mexico. We are still getting requests for booking so we may expand for a few more shows along the way. What can you expect? Lots of guitars, lots of stories, a good dose of originals as well as my favorites songs from other artists. I'll play some Dan Fogelberg, Steven Stills, James Taylor, Jackson Browne and many others. And games. I like to play games and the audience really enjoys it, so study up a bit on songs you think I may play. It will be a great time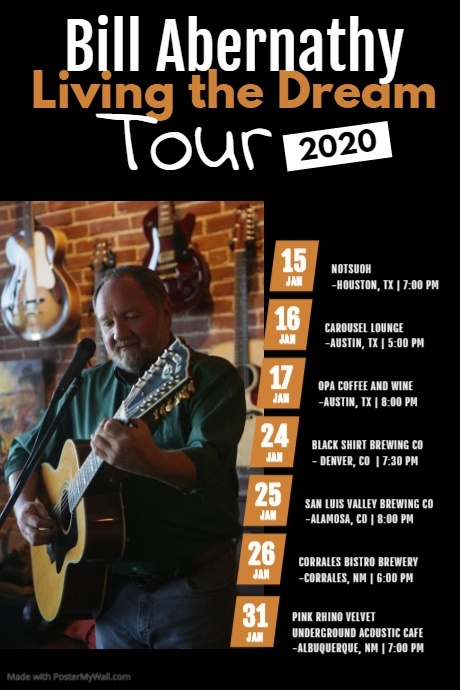 ME: What's your favorite thing about being on tour?
BA: Well considering I will drive around 4000 miles, it better be windshield time. (I don't fly my guitars) Lol. Honestly though meeting new people, new friends and new fans is really special to me. When you're playing and you see folks in the audience really engaging with the tunes, really getting what you're saying, that is really a special feeling.

ME: Tell us about your latest single, "Whiskey Road."
BA: "Whiskey Road" is a collaboration with an old friend who had some dark days living through alcohol addiction. It's really his story, I just put it into a song. My son Chad actually came up with the guitar intro. He says the tune needed to be "whiskey'd up". He was right! Fun song to play with a good message about the dangers of getting lost in the bottle. God bless those in that never-ending battle.


ME: After all these years, is playing music still fun for you?
BA: I have a belief that if it's not fun you should not do it. You know the old hippie mantra, "if it feels good do it". I cherish playing music and love doing what I do. I don't really know what I would do without it. It's funny really. People who know me well can tell when I have not had my "music time". Evidently, I lose my cherub like demeaner and become a bit testy. They usually tell me to go hang out with my guitars for a while and get my mind right. So yes, it's still fun and yes, I will play as long as humanly possible because it feels good and I want to do it.

ME: You're somewhat of a guitar collector.  Tell us about some of your favorite guitars you own.
BA: Now you've opened the door so here we go. Yes, I have a few guitars and each of them are quite special in their own ways. I think each of them have specific personalities, to the point that I have names for each of them. For example, my 74 Guild F512 12 string I just call "The Dude" because "The Dude Abides". He is special. I have another newer F512 that is named Galadriel. She is a beautiful blond guitar that makes magical sounds, but much like anyone she has a dark side that can come to visit when needed. My PRS is just called "Pretty Boy". Kind of self-explanatory. Great guitar. My go to guitar is my 1980 Yairi 9 string. He and I have been all over the world together and is invariably the first guitar that comes off the wall every day. Because of his 9-string configuration he is named "The Mutant". I'm not sure how much time we have, so I will stop there. We can have a more detailed discussion on my other 9 string, Les Paul, Silvertone, etc… Remember one can't buy happiness, but one can buy guitars and that pretty damn close to the same thing. haha

ME: What are some of your goals for 2020?
BA: I am really excited about the tour. I've played a couple of pre tour shows and have been asked back by every venue for encore shows. I think it will be fun to get out of the studio and off the internet and meet our fans face to face. I do have some new tunes that will be recorded sometime in 2020 so you can expect some new music.
ME: What is your greatest achievement, so far?
BA: When a fan comes up and tells you that your music has touched them, means something to them, and helps them along this journey we are all on, that is the only achievement that really matters. I've been fortunate to have that occur and is always a magical experience.

ME: Do you read much?  Do you have a favorite author/book?
BA: I listen to books more than I read these days. I find it relaxing. Favorite author/book? Wow that one is tough. I did read 1984 by Orwell again last month for probably the 20th time. Also read Atlas Shrugged by Rand again and really got into Sleeping Giants by Neuvel. It's really amazing how these science fiction books can directly relate to this convoluted world and society we have created. Who is John Galt?

ME: Thanks so much Bill.  Good luck on the road!  Any parting words for the fans?
BA: Our fans are the reason we do all this. Thank you for all your support. It means more that you know. I am looking forward to meeting all of you face to face this year on our tours and shows. Come on out and share some stories because as you know…. If you hear a song that sounds like it was written about you… it may have been.
For more information on Bill Abernathy, including tour dates, please visit http://www.billabernathy.com.