Christmas came early this year for Red Hot Chili Pepper fans with the announcement of some major line up changes. Announced today via the Chili Peppers' Instagram account, current guitarist Josh Klinghoffer will be leaving the band, and will be replaced by former guitarist John Frusciante. Frusciante had previously left the band back in 1992 and again in 2009, and has since stayed away from the public eye despite releasing a multitude of solo records.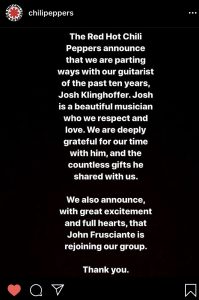 Klinghoffer originally started playing with the band back during the Stadium Arcadium era, and took over all guitarist duties in 2009. He has been a key part in the Red Hot Chili Pepper's success over the past decade, and will continue to be respected for his contributions on 2011's I'm With You and 2016's The Getaway.
With that said, fans will be thrilled to have Frusciante back, who was responsible for Chili Pepper hits like "Under the Bridge," "Snow (Hey Oh)," and "Dani California". Frusciante's guitar playing has been a mainstay for up and coming guitar players in the 21st Century and his return to the stage is a big win for rock n' roll.
The Red Hot Chili Peppers' will be on the road this summer heading summer festivals such as Boston Calling, Pinkpop and Firenze Rocks.
RED HOT CHILI PEPPERS ONLINE: Website | Facebook | Twitter | Instagram