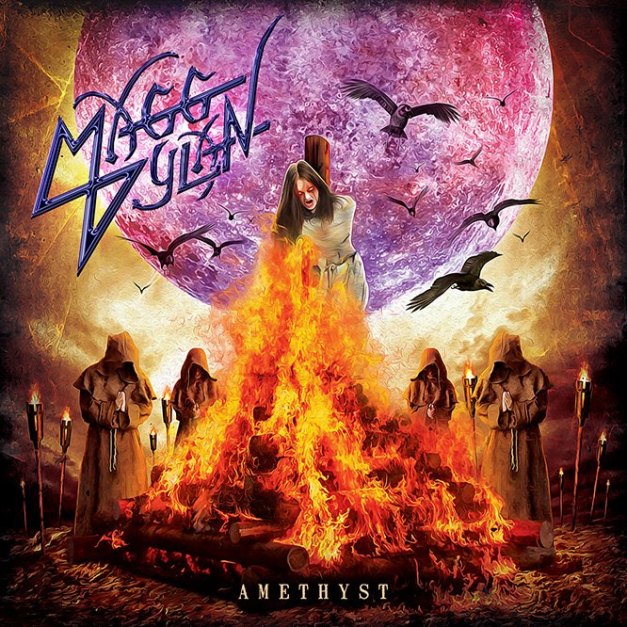 If you were looking for new metal music to fall in love with, then the debut album by Magg Dylan called Amethyst is right for you. This 10-tracks record is set to be released on February 21, 2020.
The Virginia-Beach based alternative metal band has been around since 2017 and consists of the lead vocalist Suzanne De Iulio, lead guitarist Brucifer Jordan, drummer AJ, bassist DC and guitarist Rob. Throughout the whole album, the band boldly expressed their emotions while talking about serious topics and personal problems such as bullying, depression, and addiction.
The opening track "Delusional" is introducing us to the modern heavy sound that's present on the rest of Amethyst as well. The song touches on a personal level since it tells the story of Suzanne being through hell and back with her alcohol addiction. "Scarz", which was released as a first single, is a middle finger to judgmental people who wrong you, but don't understand how their insults scar you. It's one of the songs that most of the listeners can relate to and it determines how the band put their hearts and souls into making their music. Another song that stands out is "Naked Alone In the Tub" which has a quite darker vibe; it talks about feeling depressed when life doesn't go the way you wanted to. Members have been through a lot in the past with Brucifer's unfortunate blows with his previous bands and struggles of pursuing his dream career and both Brucifer's and Suzanne's problems with addiction and depression. It seems that this song helped them express their feelings and all the pain they've felt. "Sadness" and "F.I.N.E." are also adding more to the story and help us empathize and understand these musicians better.
To conclude, Amethyst isn't just another metal album – it's a beautifully written story about struggles, overcoming dark times, and trying to show your true self in today's society. Powerful vocals alongside instrumentals are a nice combination with the inspirational lyricism which just shows what a great team Magg Dylan makes. I'm looking forward to their future work.
Watch the official video for "Scarz" down below:
Tracklisting:
 Delusional
Tearz
Scarz
Stood Up
Naked Alone In the Tub
Crawl
Sadness
Herakane
F.I.N.E
Rare Breed