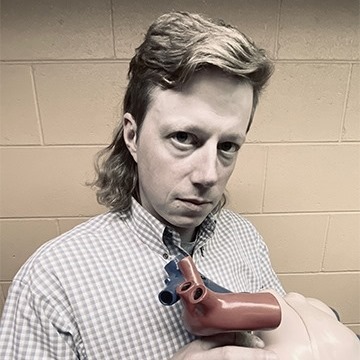 If you've ever pondered what mixing suffocating riffs, chugging harmonies, self-aware poetry and punishingly strong amounts of noise would sound like in a ten-track LP, Parker Longbough has an answer that you'd be wise to take note of in his latest album, the uncompromisingly heavy Green and Gold/Drink the Hemlock. Green and Gold/Drink the Hemlock bludgeons with big basslines in "Two Months Out," analogue glitter in "Breakdown the Acronyms," lo-fi balladry in "Avalanche Beacon" and viciously sarcastic lyrical lashings in "We Go Golfing" all without devolving into blatant overindulgence, but that debatably isn't even its most alluring feature. Longbough conquers acoustic melodicism in "Sleep Comfortably," fiery garage rock updated for the 21st century in "Burbank Safari" and post-Melvins fuzz in "Governor's (Butter) Cup" as though he was always meant to here. The experimental nuances of his past works are magnified in this release, bringing to mind everything from the underground rantings of Alex Dingley, Patrick Ballard and Patton Thomas to the harmonious avant-garde rock of Howard James Kenny, Ox-bow and even Ike Cartwright's Fuck Knuckles project, but though his fusion of sophisticated songcraft, spoken word-influenced lyrics and aggressive guitar play isn't necessarily a revolutionary design, it's one that he's made into his own in more ways than one in this enthralling LP.
TWITTER: https://twitter.com/parkerlongbough?lang=en
The production style utilized by Longbough in Green and Gold/Drink the Hemlock is really efficient, which is good because, to be frank, the amount of detail in this music demands it. Cosmetically speaking, "Bad Attitude" is a really simple composition, but beneath its fluid melody and familiar structure, it actually contains as much texture as any of the other songs here do. "Rising Black" and "Burbank Safari" are hypnotically decadent, with the latter presenting so much color in its opening chords that its chorus almost feels like a sugar rush. Parker Longbough has always been a talented singer and composer, but he steps things up in "Burbank Safari," "Sleep Comfortably" and the punky "Avalanche Beacon" beyond what I had initially thought him capable of. He's found his center as an artist, and as a veteran of the game, he's showing an impressive amount of self-control and conservatism from behind the glass in this album – which, if I'm being truthful, is something that some of his younger contemporaries could stand to learn a thing or two from.
SPOTIFY:
As poetic as it is often grittily melodic, Green and Gold/Drink the Hemlock is a must-listen for indie rock buffs this season, as it offers ten of what are arguably the strongest songs Parker Longbough has penned thus far in his career. Longbough doesn't really tell us anything about himself that we didn't already know in this LP, but I don't think he was going for some sort of a confessional vibe here. He's at a place with his work where there aren't many non-sonic barriers left to cross, and if we are to take away anything from the substance of Green and Gold/Drink the Hemlock, it should be the fact that he isn't afraid to move his music even further left of the dial if it means exploiting this craft for everything it's worth. I can't wait to hear what he comes up with next, and after you examine this record for yourself, you just might feel the same.
Loren Sperry