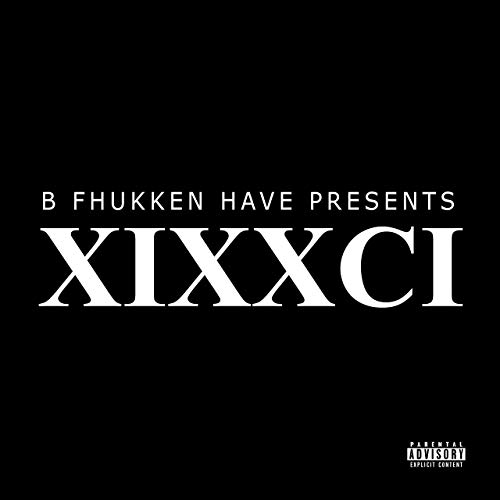 Creeping through the shadows like a thief in the night, we find an evocative melody suffocated by middle and bass at the onset of B Fhukken Have's "XIXXCI" that will grow in size and strength in the next few minutes of play, though not without the leading vocal of B Fhukken Gave himself to guide every strand of its tonality home. He's got mad swagger in this track, which is an unforgettable staple of his early releases, but it's no more powerful a component here than it is in the seminal jam "Resurection Paradise (Beef Music Mix)," one of my favorite tracks that he's dropped thus far. "Resurection Paradise" is a grainy, bass-focused beat-down that comes in at over seven minutes in total running time, making it what most music critics would refer to as a hip-hop epic, but it never feels especially bloated or extended beyond what it should have been. There's an operatic construction to the verses in this song, and in every word that comes spilling out of B Fhukken Have's lips we discover a layer of emotionality that most rappers just wouldn't be vulnerable enough to expose.
The Real Beef Music Group exclusive "Windy City" blends the melodic points in this player's sound with all of the unapologetically harsh, and while it's perhaps the ultimate cocktail of fusion stylizations that we've heard from B Fhukken Have to date, I don't know that it personifies his aim as a rapper as well as his brand new single, "Babyfood," does.
One part throwback to the mid-2000s harmonies that once introduced a generation to what hip-hop could be sans commercial restrictions, another part futuristic experiment combining elements of southern and west coast rap, "Babyfood" is a statement single if I ever heard one, and it's the main reason why I'd tell connoisseurs of urban music to pay close attention to whatever B Fhukken Have does in the studio next. Where a lot of guys his age are chasing after one persona, this is an artist who seems intent on delivering a multifaceted look into not only his own life, but a culture of music still yet to be fully realized.
The fifth song that B Fhukken Have has out at the moment, "Beef Stew," is another great sonic exhibition piece that leans more towards melodicism than it does angst-ridden nattering, and while it's not quite the powerhouse that "Babyfood" is, it's nonetheless required listening if you want to get to know who this songwriter is, and perhaps even more important than that, the kind of music that he wants to make with his gift. I'm very interested in seeing what kind of a full-length LP he puts together in the next couple of years – hopefully arriving much sooner than later – but regardless of how long it takes for him to get back into the studio grind, I think that he shouldn't rush anything about his art form. B Fhukken Have has it all going on in these tracks, and I for one want to hear what his cultivated final product sounds like without any external interferences.
Loren Sperry