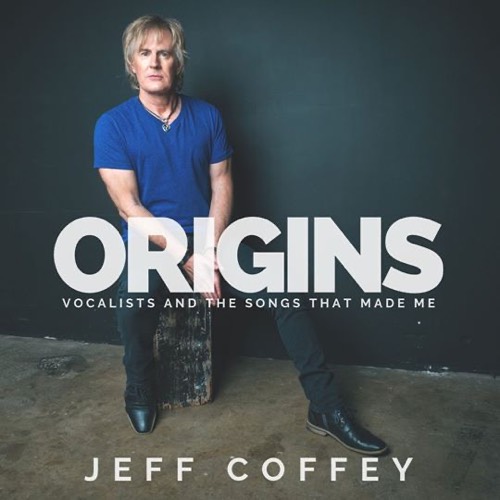 Jeff Coffey's album Origins: Singers and Songs that Made Me feature fifteen songs covering everyone from Rod Stewart to Queen, among others. The onetime tenor vocalist for Rock and Roll Hall of Famers Chicago has the necessary pipes to cover a wide musical gamut in convincing fashion and his love for the material comes through on every track. Coffey doesn't adopt a typical approach to covering other's material – he is faithful to the originals, but never slavishly so. Instead, he uses the iconic performances as a jumping off point for his own inventiveness and invests each song with the full force of his own musical ideas and personality. As records of an artist's influences come, Jeff Coffey's Origins is one of the best releases of its kind.
His version of Journey's "Ask the Lonely" doesn't have the same wide ranging vocal pyrotechnics prime Steve Perry brought to the seminal band's material but, again, Coffey isn't looking to just mimic the originals. Much of the arrangement remains faithful to Journey's original, but where the song differs is with Coffey's vocal – he takes an individual approach to phrasing and focuses more on communicating emotion rather than maintaining an even bombastic keel with the music. The redemptive lift of The Baby's "Back on My Feet Again" has a lighter musical hand than John Waite and company brought to their version, the acoustic guitar is especially effective, and Coffey plays his vocal with a subdued register as well. It's one of the better revamps you'll hear on this release and that's saying something.
URL: https://www.jeffcoffey.com/
 His take on "Fooled Around and Fell in Love" has near orchestral qualities. It starts off at a low simmer that the musicians and Coffey alike build on during the performance and, once more, Coffey's obvious respect and affection for the material comes through. "I Can't Make You Love Me" lacks Bonnie Raitt's bluesy gravitas and instead embraces straight forward pop balladry in its stead. Pianist Michael Omartian makes the first of two effective appearances on the album offering on-point accompaniment to Coffey's vocal. The performance is elegant, but deeply felt and never lacks for musical substance.
His version of "Maggie May" retains much of the same musical arrangement we hear from the Rod Stewart classic, but Coffey's classically gifted voice takes the performance in different direction that rough and tumble English blues of Stewart's voice. Coffey's voice is a natural fit for the Don Henley late 80's gem "New York Minute" and he gives one of the album's defining vocal performances with this track. He does a fine lyric great service with his emotional and far-reaching interpretation. Origins has a great deal to offer lovers of great singing and pop music alike. There isn't really a poor selection amongst its fifteen tracks and the only knock you can have against this collection is that maybe it's too long. Many listeners, however, will believe there's never too much of a good thing and those who think that way will enjoy everything Jeff Coffey's album has to offer.
Loren Sperry