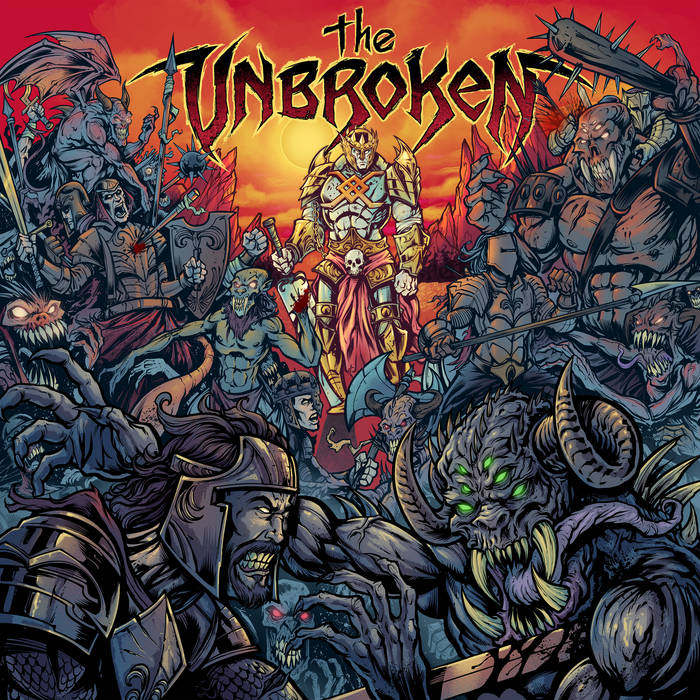 Beautifully fragile and yet entirely menacing in every way a melody can be, The Unbroken waste no time in painting us a melancholic portrait in heavy metal hues in the title cut from their debut EP, Human Crown. There isn't any gloss in this song – only a stone cold harmony between electrified instruments that will eventually form a hailstorm of furious distortion in the next few minutes of the track. In both this song and the equally stacked "Nothing Left to Sell," The Unbroken break away from the mainstream metal mundane and tap into a creative musicality rarely exploited in modern records of this genre.
"Stuck in Your Way" is the only instance in Human Crown where this band leans more on the traditional framework of heavy metal than they do something totally alternative to what the average group would be working with in this period, but it isn't so hung up on classic riffs that it fails to sound original and vicious in its own right. This track and "Suffering in Silence" both feature some really excellent basslines that do more to colorize the grooves than any other component here does, tethering The Unbroken's tree of influences to underrated legends like doom heroes Trouble and power fiends Manowar.
BANDCAMP: https://theunbroken.bandcamp.com/releases
"Suffering in Silence" was my favorite track right out of the gate when I sat down with Human Crown for the first time, and I can see where it would make a really great leadoff single for the band to tease this EP's release. It's got all the factors of a metal standard – grit, molten-hot power chords and a juggernaut of a beat – and yet it doesn't sound like anything I've heard out of this group's rivals in 2019. The Unbroken like being the outcast of their generation, and in a genre that looks upon oddities with special favor, their new record couldn't be arriving at a much better moment.
Like something off of …And Justice for All, "I Never Forget" whacks us in the face with as big a riff as any I've examined in the past two years at the onset of its play and keeps on bashing away at a fiery beat until we just can't take anymore, but resisting the urge to listen to this track on repeat is tough if you love black and white metal magic as much as I do. The same can really be said for all of Human Crown, and for this being an EP from a greenhorn metal band, that's something to really marvel at.
Loren Sperry