---
Last week Music Existence spoke with Chris Turpin of the blues-based duo IDA MAE. Turpin, alongside his wife Stephanie Ward have been hustling through the music industry for a while now. While in college, the pair were part of the alternative rock band Kill It Kid. For about six years they traveled through the UK and Europe doing shows and getting noticed by some of Europe's top music publications. After three albums they disbanded and shifted their focused back to the music they were raised on.
This time around, as a duo not a band, they wanted things done differently. They desired a shift back to the style of music that inspired them as songwriters and wanted to leave behind the pressures of writing a hit song for the radio. "It was a big decision to shift gears and do this…..We drifted far too away from what was important to us and the reason we actually started writing and playing. It was really a return to some simple songwriting."
Their sound isn't typical of what most artists are releasing in 2019. Its roots are based in blues-based Americana music, with heavier elements of classic rock. Previously Ida Mae has stated that as a blues act, they still find influence in the heavier rock n' roll bands they admired when making music with Kill It Kid. "We were obsessed with the early British blues scene and rock n' roll like; Peter Green's Fleetwood Mac, Eric Clapton, The Beatles, The Rolling Stones, you look at those early bands and they were obsessed with Chess Records and Muscle Shoals and Stax, and all those early blues guys. We really do feel like we are pulling those same influences as a lot of those bands were but we're just kind of piecing them them together in a different way".
Although Turpin's resonator guitar playing is the primary musical force driving their sound, it's Ward's vocal contributions that truly separate them from other acts today. Her hauntingly authentic harmonies pair perfectly with Turpin and add an intensity to their music that can't fully be explained. Songs like "Reaching" and "Sick in Love" thrive on their duelling vocals and turn each song into a melodic conversion worth listening to.
With their influences and sound being all encompassing, it's no surprise fans of folk, rock and everything in between have come out to see Ida Mae perform. They have shown significant success from touring this past year by going out on the road with everyone from Willie Nelson to Greta Van Fleet. They are proud to be a part of the blues-based rock n' roll revival the industry has seen over the past 18 months and hope it's something they can continue to be a part of.
"It's really exciting to see bands like Greta Van Fleet, Marcus King and even Gary Clark Jr., we're just thrilled to see it coming back..…Especially bands like Greta who are going back to the source of those early bands, really knowing their history of where it came from, and [knowing] the importance of those early recordings and the history of American music, especially the history of rock n' roll."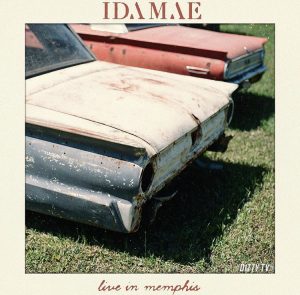 After a whirlwind year of touring with some of the best live acts today, Ida Mae's next plans are to release a live EP in early 2020. Recorded earlier this year during a television taping in Memphis, the EP will be released on January 24th and will surely capture the special live qualities that they're known for. "We tracked each song in one take in this little studio in Memphis, and we were just really happy with how it sounded…So yeah, it's Live in Memphis. Which for us, Memphis is the real Mecca of early rock n' roll and blues, so it was really exciting for us to be there".
Live albums are especially important in the digital era, where sounds can be heavily manipulated in the studio turning just about anyone into a popstar. Live albums are the most honest form of a recording an artist can put out, and as expected Ida Mae has many live albums that have influenced them throughout their career. "Oh shit, that is such a big question! Mad Dogs & Englishmen, Joe Cocker oh my god that's probably one of my favourites!" Excitedly, Turpin continued on with a very long list of live recordings he admires which included everything from Free Live! to Jimi Hendrix's BBC Sessions.
With 2019 wrapping up to be a year of constant touring for Ida Mae, 2020 is looking to be no different. After Live in Memphis is released the pair will look to begin recording album two, with a hopeful release by the end of next year. In the meantime, be sure to check out one of their shows and see how unbelievable they are live. Despite being a duo, they have the ability to sound like an entire band is on stage complete with numerous guitar players. Their individual musicianship paired with their incredible connection on stage is something to be witnessed, making an Ida Mae concert essential for any music junkie to attend.
IDA MAE Online:
Official Website | Facebook | Instagram | Twitter
IDA MAE Live:
NOV 26 – 
Rialto Square Theatre -Joliet, IL
NOV 27 – 
The Kentucky Center for the Performing Arts – Brown Theatre – Louisville, KY
NOV 29 – 
Roxian Theater – Mckees Rocks, PA
NOV 30 – 
The Forum Auditorium – Harrisburg, PA
DEC 02 –
Durham Performing Arts Center – Durham, NC
DEC 03 –
Thomas Wolfe Civic Center Auditorium – Asheville, NC
DEC 04 –
Charleston Gaillard Center – Charleston, SC
DEC 09 –
Smith's Olde Bar – Atlanta, GA
DEC 12 – 
Mercy Lounge – Nashville, TN
Feb 18, 2020 – 
Keeping The Blues Alive At Sea – Miami, FL
Feb 24, 2020 – 
Parker Playhouse – Fort Lauderdale, FL
Feb 26, 2020 – 
The Plaza Live – Orlando, FL
Feb 27, 2020 – 
Ponte Vedra Concert Hall – Ponte Vedra, FL
Feb 28, 2020 – 
Charleston Music Hall – Charleston, SC
Feb 29, 2020 – 
Miller Theater – Augusta, GA
Apr 22, 2020 – 
Bush Hall – London, UK