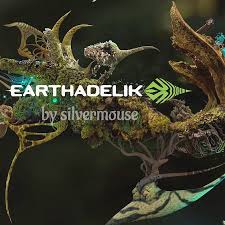 Melodies like laser beams assault us from every angle in "Down." They smack us with enormous basslines in "Beef in D Minor," psychedelic grooves in "Dream Valley" and fierce, cutting harmonies in "Venus Feels Like That." Traditional EDM arrangements are skewed with contemporary experimentations in "Freaks and Lovers" and "New Moon," but they're recognizable to most anyone who has heard the collective works of the brilliant Silvermouse prior to now. This is Earthadelik, the latest release from the acclaimed power duo based out of Puerto Rico, and while it's a wholly instrumental affair that pushes a lot of stylistic boundaries to the very brink, this LP is one that I would rank among the more important in its genre to see widespread release in 2019.
Silvermouse prove that you really don't need catchy lyrics to make a big statement in your medium in Earthadelik, and to understand what I mean, you really needn't look further than the fine-line beats of "Freaks and Lovers" or "Dream Valley." In both of these tracks, there's an expressive texture to the music that would never be communicative were it replaced with a linguistic poeticism, and in songs like "Little Ratty" and "Existence Experience," Silvermouse arguably take such an efficient approach to the construction of the main melodies in the tracks that there wouldn't be any room for a lead vocal even if they had wanted one to be present. Earthadelik forces us to examine components of tonality and harmony that we would normally ignore in a conventional pop release, and if this doesn't make it one of the most unique LPs to come out of the underground this November, I don't know what else could.
BANDCAMP: https://silvermouse.bandcamp.com/
I've never been the biggest fan of electronica, but with a record as accessible and hypnotic as this one is, the music is just too good to pass up. You don't have to be a devoted audiophile to appreciate the dexterity that went into this album's ten songs; from the complex "Hot Button Wild Boom" to the relatively straightforward "Spores in My Dermis," this is a piece that really grabs your attention right out of the gate and doesn't let it go for the nearly 80-minutes it lasts. Simply put, if you weren't listening to Silvermouse before Earthadelik, there's a good chance you will be after giving it a spin.
Loren Sperry