Today, Hollywood Undead announced that they will be releasing "Volume One" from their upcoming sixth full length studio album 'New Empire'. Hollywood Undead's new album will be a double record with "Volume One" set to release on February 14th, 2020.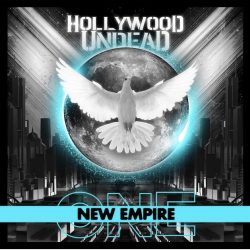 pre-order 'New Empire' "Volume One" NOW: https://hollywoodundead.lnk.to/NewEmpireVol1FA
Following the release of 'New Empire', Hollywood Undead will embark on a co-headling European tour with Papa Roach. The tour will see 22 cities and will kick off on February 16th, 2020 in Barcelona, Spain and will run through March 18th, where the tour will make its final stop in Denmark, Copenhagen.
Hollywood Undead with Papa Roach Tour dates:
FEB 16 SUN Barcelona, Spain Tickets VIP RSVP