Celtic metal fusion vocalist LEAH is set to release her latest album Ancient Winter, this Friday November 15th. The fifth release from the Canadian recording artist arrives just in time for the holiday season, bringing together an album full of winter inspired Celtic music. LEAH's record was entirely crowdfunded by her fans, who have been a dedicated force behind her music since her debut album Of Earth & Angels in 2012. Music Existence sat down with LEAH to discuss the new record, her fans and more.
ME: Where did your love of Celtic music come from and where did your love of metal music come from? When and how did those two genres begin to blend together for you?
My love of Celtic music came from early exposure to artists like Enya, Clannad, and others. Later in my teens I was exposed to bands like Nightwish, Dream Theatre, Symphony X, and others. I was always a singer/songwriter and tended toward the singer-songwriter genre like Sarah McLaughlan, but later on I realized I wanted to incorporate more of my favorite influences. At first, I thought I had to choose one or the other, but then I realized I didn't have to choose… I could blend my favorite things together and make something unique.  
ME: I know you're from B.C., but was your cultural background significant in how the sound and shape of how your music evolved?
Somewhat.  I grew up knowing I had an English, Irish and Scottish heritage. If anything, it gave me permission to fully embrace it, knowing my DNA comes from those places.
ME: Fans are a critical part to any musician's life, but your fans have personally donated almost $100,000 to ensure your music gets a proper release. What does that mean to you?
It means a lot! I have a close relationship with my fans – as close as you can get in the digital/online sense. I ask for their feedback and input on things frequently and consider them part of everything I do. That's essential to succeed in today's New Music Industry. You can't hide behind some celebrity mystique anymore. People want to see how you make your pancakes in the morning. Show them, and they will feel very close to you.
ME: With having to rely on crowd funding to make records, do you think there is a lack in representation for world music in the traditional major label landscape?
In my view, I don't "have" to rely on crowdfunding, rather, I get to. I honestly don't have a single thought in my mind about what traditional major labels are doing in regard to representation for world music. In my view, most major labels are still in the dinosaur age of marketing, promotion and customer journeys. They have no clue. They're still doing everything the old way, even the well-meaning ones. Sometimes it's hard to teach an old dog a new trick. Musicians have a much better shot at success right now if they learn how to market their own music in a niche instead of trying to appeal to the whole world. And learn digital marketing.

ME: I want to talk about the presence of nature in your music. Between birds chirping on songs, the album's artwork and your album titles, the nature theme is very present. Is nature a conscious theme throughout all your work or is that just what comes out naturally?
It comes out naturally. I love the outdoors and nature calms me. It's the antidote to many mental health problems and over-saturation of technology (which I enjoy too). I just have to have it somewhere in the music to give the audio effect I'm going for.
ME: Where else do you draw creativity from? Is it primarily music or do you have other creative outlets?
Oftentimes ideas strike me at the oddest times: in the shower, while driving, or walking through a chaotic carnival… don't ask me why or how. I also get inspired by beautiful places in nature around the world, and historic architecture and scenes like castles, cathedrals, and ruins.
ME: I know you value being a recording artist over a touring artist, but in today's music industry it seems like bands are constantly on the road 10 months out of the year! What have the challenges been for you to stick to your plan of just being a recording artist for now?
It's not so much valuing one over the other, rather than a strategic and practical choice because I'm so busy with my music marketing academy (Savvy Musician Academy), writing new music, and being a good mother to my five hobbits. They are getting a little older now, so I'm starting to think more about a tour.. and perhaps how they could come along. We all love to travel, and they are already homeschooled, so that's a consideration.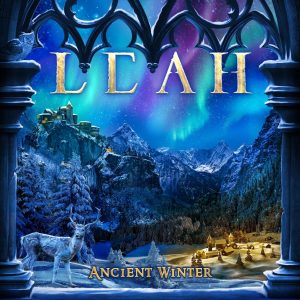 ME: Let's shift gears to the new album out this Friday. I read that this record was inspired to be like a Christmas album but not totally a Christmas album, is that correct?

Well, yes. My intention was to create a Winter album, not specifically a Christmas album, so that it could be enjoyed longer than one month out of the year. It certainly has a festive holiday theme to it, but the general approach is one of Winter.
ME: And this album doesn't have any major Metal components to it, right?
Correct, although it's been interesting to hear reviewers note that they hear the metal roots even though the heavy instruments aren't there.
ME: You thought of the idea for this record in January. How were you able to write, record and release an entire album in about 10 months?
It was a bout of insanity, I think. I don't recommend it! I was very focused with my eye on the prize and went into tunnel-vision mode.
ME: You also have some really unique merch that I haven't seen before! Notebooks, duvets, blankets, and pillows and candles too. Where did the idea come from for home goods?
They are all things I love and use in real life! I rarely find things I want in stores so sometimes you just have to create them. The candles are very rare and limited edition because I hand-made them all and am very proud of how they turned out and folks seem to be loving them! In the end, it's all meant to create an ambiance and atmosphere in your life and home that makes you feel more magical. I hope the new album will invoke that feeling for everyone.
LEAH's new album Ancient Winter will be out everywhere Friday, November 15th.