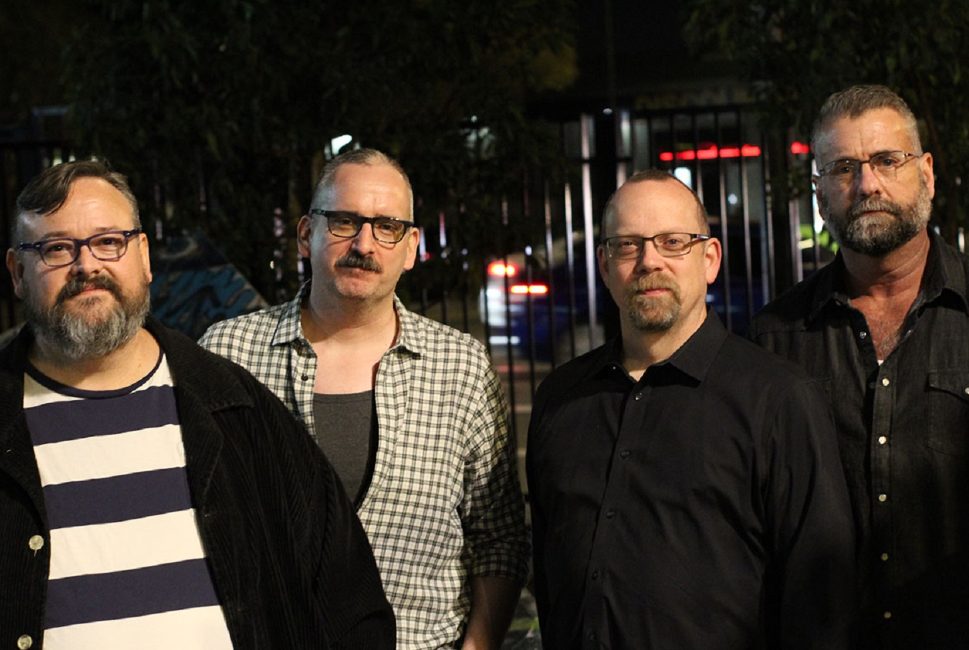 We look upon a messy living room in the first few frames of the new video for The Bobbleheads' "Joey," eventually finding the eponymous Joey spread out on the couch with that dreaded, grimacing look of unemployment painted on his face. His girlfriend's had it with his lack of initiative, and she's letting him know where she stands in their relationship in this introduction to the song. She storms out and takes us into the dimly lit bar that will act as the backdrop for The Bobbleheads' performance in the video, and while this Hollywood-style segue into the music is a little overdramatic, once the palm-muted riffing kicks into gear we're no longer focused on the cosmetics in this piece – only the vigorous thrust of the guitars. The video for "Joey" is one of the more elaborate and interesting indie vids that I've seen lately, not because of its top shelf production value, but instead because of the way that it makes music the priority over anything and everything else that we see in its nearly five minutes of playing time.
FACEBOOK: https://www.facebook.com/TheBobbleheadsPage
This is a really simple, unfanciful composition from a band in The Bobbleheads that has never exhibited any desire to wow us with gluttonous showmanship, and I actually think they tend to sound their best when they're keeping it as black and white as they have in this single. With guitar-oriented alternative rock, one mistake that groups like this one often make is in trying to stack narratives together in music videos – for example, the song is telling us one story while the visuals tell us another – as well as making songs needlessly complex and detailed when it would have worked much better to build something around a straightforward hook and harmony, but that isn't an issue for The Bobbleheads in "Joey."
They could have put a lot more into both the video and the single on this occasion, but rather than doing what most any of their more inept peers would consider trying, they take things in a different direction here and emerge from the studio with one of the better cuts from their latest album, Myths and Fables.
Witty, evocative and sporting a really fun sway, The Bobbleheads' "Joey" is a gem if you dig smart indie rock with a vintage stylization as much as I do. It isn't the only song from Myths and Fables that I would recommend to listeners trying to get into their sound, but in terms of feeling complete and efficient, this is the cream of that LP's crop by leaps and bounds. Director Fred Gebhardt dutifully brings all of the energy and excitement in the band's play to life in the music video without getting too experimental behind the camera, and personally I hope that this isn't the last instance in which he has the chance to work with The Bobbleheads. It can be difficult to find the kind of chemistry that they're sharing in this piece, and even harder to locate a director that can accentuate the music as well as he does in "Joey."
Loren Sperry