For almost four decades, Slayer has reigned supreme as one of the most iconic and influential bands in metal to date. Since the early 80's Slayer has carved a path of destruction, like a sadistic killing machine fueled by speed and aggression, Slayer know as one of the Big 4 has crated a legendary style all their own.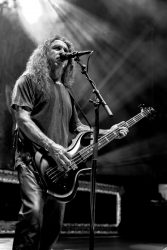 On November 2nd, Slayer kicked off the final leg of their 20 date Final Campaign Tour that will end with the band playing their final show together in the city where it all began, Los Angeles, California.  
Today marks a giant milestone in Slayer's career, as we celebrate, for the first time ever inside the "worlds most famous arena" Madison Square Garden, Slayer will take the stage for a bitter sweet farewell New York City performance in front of a Sold Out crowd of 20,000 loyal screaming maniacs of the Slayer Nation.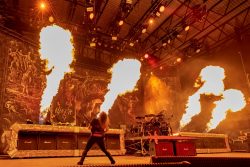 Madison Square garden has hosted some of the biggest names in music history, from Elton John to Led Zeppelin, Elvis Presley to The Original Misfits, and now Slayer.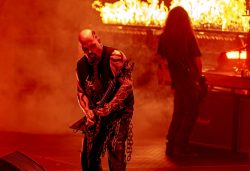 Tonight's New York City show will definitely be a bitter sweet good bye for Slayer fans, but will also be a celebration of the career of thrash metal's most sinister band of all time Slayer. This will a memory we will all to cherish for the rest of our lives. Tonight the Angel of Death will soar high above The Garden tonight as Slayer reigns down on New York City.
Hanneman Forever.