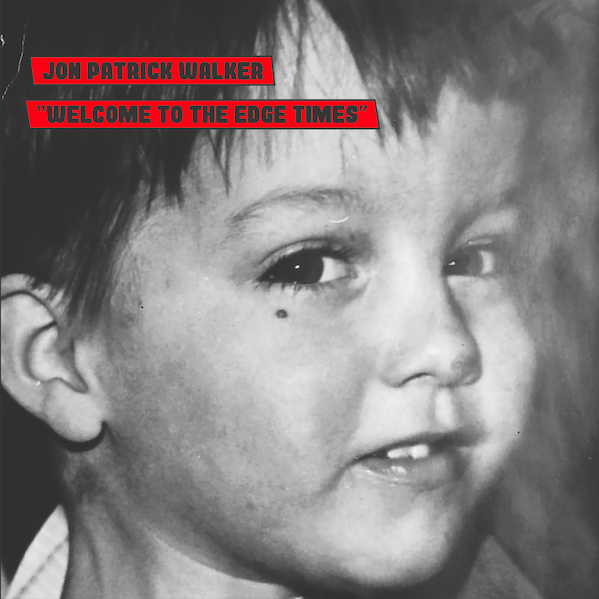 Like a long-legged spider slowly creeping out of the shadows, the strings that greet us at the start of "Luv U Girl," the first single from Jon Patrick Walker's new record Welcome to the Edge Times, are hypnotizing and yet subtly threatening. Over the next ninety seconds of play, we'll become entranced by the pendulous rhythm and every strand of melodic magic that it carries on its back, and by the time that this song is over it's quite hard to believe that this it occupies only a sliver of space on what amounts to a must-listen album for indie folk fans everywhere this year.
"Luv U Girl" is a cornerstone composition on Welcome to the Edge Times, but it's hardly the only gem in this treasure chest. A swinging beat and some silky harmonies captivate in "Like a Rose" and "Whatchoo Gonna Do" while a potent vocal melody leads the way in the self-explanatory "Blues For My Baby," Who's Next-style "(Meet Me at the) Delaware Water Gap" and barebones "Angelina of the Sky," and though some of these songs are more aggressive than others, they're all equally emotional in tone. Trying to put this record down once you've picked it up is pretty difficult to do, regardless of how big a singer/songwriter enthusiast you are (or aren't).
URL: http://www.jpwalkermusic.com/
FACEBOOK: https://www.facebook.com/JonPatrickWalkerMusic/
There's a good mix of vocal virtuosity and instrumental prowess in this album, but some tracks – like the splendid "The Mystical Ballad of Gregory Jim" and "We Won the War" – are undeniably all about Walker's incredible voice. He's experimenting with songs that are debatably more demanding of his abilities than any of his older material had been, and his confidence really is something to be marveled at. Too few musicians in his peer group can bring a consistent swagger to the studio with them, but this guy has never sounded more on-point than he does in Welcome to the Edge Times.
I would have probably emphasized the guitar parts in the master mix of "The Crystal Palace Park" and the title track a little more than they ultimately were, but I can understand why Walker decided to go in a different direction here. In creating a removed, almost filtrated sound in these two songs, he reshapes the lyrical narrative and focuses our attention on the way he's singing in addition to what he's singing. It's cerebral composing at its edgiest, but it doesn't come across as pretentious or even remotely self-absorbed.
YOU TUBE CHANNEL: https://www.youtube.com/channel/UCYSPWKUFWtZNFEJvtJuadHg
If what I'm hearing in Welcome to the Edge Times is but a small sampling of what's to come next for the discography of Jon Patrick Walker, there should be no reason to think that this will be the last headline-making slice of indie wonderment to bear his name on the cover. Welcome to the Edge Times is a multidimensional musical odyssey that, much like an intricately-constructed stage play, inspires different reactions out of different people. Personally, I took away a great deal of raw emotion and genuine contemplation in these tracks, and I think that listeners would be hard-pressed to find anything quite as urbane as this offering is before the month of October expires.
Loren Sperry