Northern California's punk rock cult favorites Tsunami Bomb are back with their first new LP in 15 years, "The Spine That Binds".
The LP, which was produced by the band and mixed by Jack Shirley (Deafheaven, Joyce Manor, Jeff Rosenstock), will be released on November 8th via Alternative Tentacles.
A newest track off the upcoming LP "Petaluma" debuted Wednesday, October 16th on Kerrang! and is now streaming here.
Keyboardist/vocalist Oobliette Sparks told Kerrang!, "Petaluma is about reaching a crossroad and realizing after choosing your path, that no matter how fast you run or how far you go, your past will find a way to catch up to you. How you decide to face it when it does is the only real path to finding absolution."
"The Spine That Binds" will be released digitally and on limited edition colored vinyl.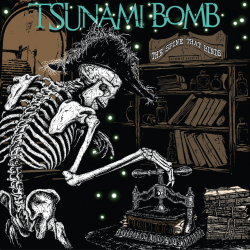 Vinyl Pressing Details:
-100 Coke Bottle Clear Vinyl for Tsunami Bomb Squad and Alternative Tentacles Records Vinyl Subscribers (sold out)
-400 Turquoise Vinyl (available for pre-order online with copies also available at FEST and band's upcoming album release show).
-Classic black vinyl
Pre-order bundles for the limited edition turquoise vinyl are now available at Alternative Tentacles Records' online store. Exclusive shirt featuring the incredible cover art by JXRXKX, poster with photography by Amber Mannon, and an enamel pin by bassist Dominic Davi are also available in different combinations… and of course you can just get the record on LP or CD right here: https://alternativetentacles.com/shop/.
With the long-awaited third full-length release, 'The Spine That Binds,' Tsunami Bomb have proven that this latest chapter of the band not only embraces their signature style of aggressive pop-punk supplemented by a touch of darkness but has taken it even further.
Honing their skills of melody while being more in-your-face and more aggressive than ever, they conjure a dark journey of discovery with each track. Originally formed in 1998, and disbanding after many member changes in 2005, Tsunami Bomb reformed at the end of 2015.
This new release finds the quintet brought to life with the return of founders Dominic Davi bass/backing vocals, Oobliette Sparks keyboards/co-lead vocals, and Gabriel Lindeman drums. Joined by Kate Jacobi lead vocals and Andrew Pohl guitars/backing vocals.
Tsunami Bomb Upcoming Shows:
November 2nd – The Fest 18 at the Wooly Club Show in Gainesville, FL
November 22nd – Headlining Day 1 of Alternative Tentacles Fest at Cornerstone in Berkeley, CA. Celebrating 40th Anniversary of Alternative Tentacles and Album Release Show
'