In the Next Life deliver one of the most brutal melodic rock EPs of the season in their new record 4FriendsInARoomWithAGun, a five-song affair that is best described as a sonic colon cleansing outfitted with striking vocals, intricate riffing and freewheeling lyrical diatribes. As indebted to proto-grunge ala Malfunkshun, Gruntruck and Skin Yard as it is the metallic dirge of stony Black Sabbath disciples like Fu Manchu and the Palm Desert sound in general, 4FriendsInARoomWithAGun might not change the foundation of rock n' roll as we know it, but I can tell you this much – it's almost guaranteed to shake your floorboards even at a moderate volume.
The riffing in "Ashes and Dust," "Manica Satanica" and "Living in the Moment" is marred in a relentlessly scooped EQ that forces us to feel the pummel of the distortion more than we do the texture of the melodies, but this works surprisingly well (and, arguably, better than it would for other bands of a similar persuasion). Singer Caroleen Stewart keeps things pretty well balanced with a slick lead vocal that's interwoven into the fabric of the instrumental violence quite seamlessly, and even when the music is more guttural than it is groove-laden, we never lose sight of the underlying hooks in each composition.
BANDCAMP: https://inthenextlife-presspage.bandcamp.com/releases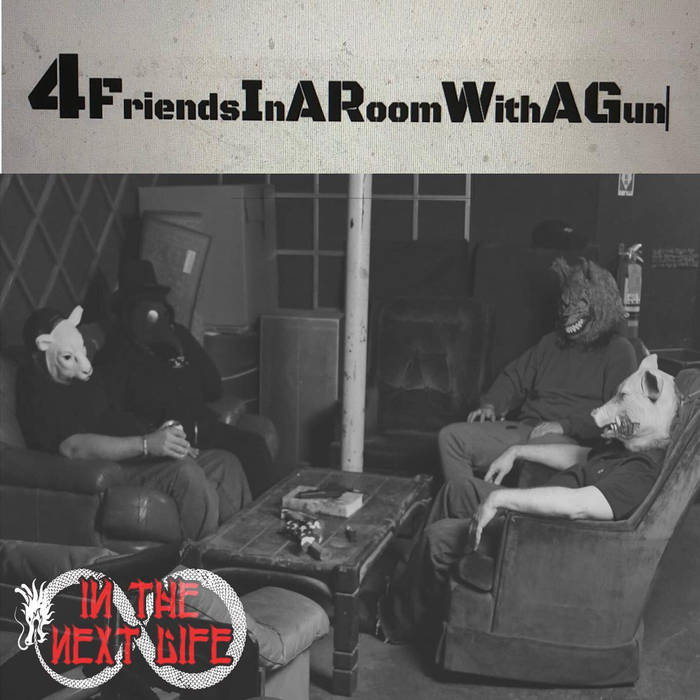 Some of this material, such as "Hope Dies" (which is available to us in both acoustic and standard versions on this EP), was clearly made with the stage in mind, but I wouldn't say that it underwhelms in this capacity at all. There's a sharp, raw intensity to every stitch of audio on this record that makes us feel like we're witnessing something that was taken directly from a live performance, and in an era that has produced a lot of music that has felt wholly inauthentic in both substance and style, that's something that shouldn't be taken for granted.
I wasn't very familiar with this New York crew before coming in contact with 4FriendsInARoomWithAGun, but I'm definitely curious to hear what they come up with next – both in the studio and on the live circuit. If this is just a taste of what they've got in the tank, they're going to be in for a very long and successful career in hard rock as the 2020s come into focus; the late 2010s have left legions of fans hungry for some muscularity, and this is one unit that seems more than capable of dishing it out.
Garth Thomas