It's been an insane twelve months for Alessia Cara since the release of her sophomore album The Pains of Growing last November. The album was met with impressive reception, and had most media outlets praising the Grammy Award winner for her unique writing style and sound. Since then, she has toured the world with Shawn Mendes, booked her own US headlining tour, and released an EP titled This Summer.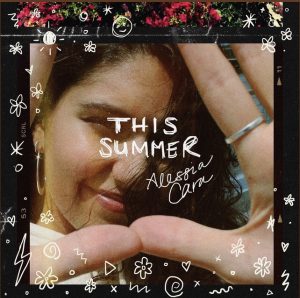 This Summer was an impromptu release from Cara after she caught the writing bug on the road this year. The six-piece compilation was reportedly all written in a single week and recorded during the Shawn Mendes tour, in a hotel room, and on her bus. The EP tells a story familiar to many. The intense times of your early 20's can be like a roller coaster filled with emotions. You and everyone around you are trying to figure out who they are and what they want to be. New friends are coming into your life, just as quickly as some are leaving. Tracks like "Rooting For You," "OKAY OKAY," and "Ready" are filled with lyrical innuendos that filter through the minds of every 20-something millennial, just trying to find their place in this world.
Sometimes spontaneous releases can hurt an artist when their main objective is trying to stay consistent on streaming platforms and playlists, but that's not the case for Alessia Cara. It's clear the artistic forces of the universe struck Cara at the right time this summer and prompted her to write some of her best material yet. This Summer concluded one of Alessia's best years so far and was celebrated last night in Toronto.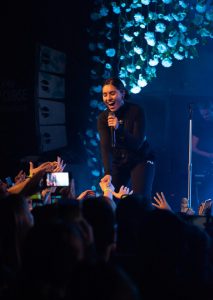 Being the hometown hero that she is, Alessia Cara was selected to be this year's Lotto Max Up Close Marquee Artist for 2019. Previous artists selected include Toronto indie all-stars Metric, Broken Social Scene, Killy, 2 Chainz, and BOI-1DA. The event brought Alessia's biggest fans up close and personal to the star and celebrated her latest singles from This Summer that have been booming on Canadian radio. Cara gave small insights into each of the new tracks she performed and profusely thanked her hometown fans for the incredible year she has had thus far.
Alessia put on an impressive one-hour set that presented all the hits from her catalog, including "Here," "Scars To Your Beautiful," and "Stay" her powerhouse dance track collaboration with Zedd. Her new tracks from This Summer were the real stars of the evening with fans dancing along to "OKAY OKAY," "Rooting For You," and "October."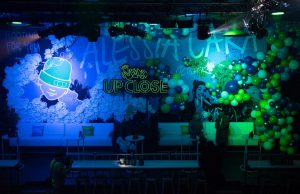 The night was held at Toronto's Mod Club and showcased unique art installations throughout the venue. Augmented reality features throughout the space allowed fans to interact with one another and engage with Alessia's music on a more creative level. Between the abundance of florals on stage, to the impressive décor created to promote her current singles, the concert was curated to subconsciously connect each of the five senses without the fans realizing their creative headspace was thriving.
The evening showcased just one of the many artists booming out of the Toronto area in recent years. The audience included many of Canada's top music and media executives, but also fellow artists who came to support another Canadian, making it big in the global music industry. Alessia Cara's new music may illustrate the conclusion of one crucial chapter in her career, but from an industry perspective, it's clear we'll be rooting for Alessia for many years to come.
Alessia Cara Online: Instagram | Twitter | Facebook | Website