Confession: I haven't followed Stone Temple Pilots since Chester Bennington left the group in 2015. It's tough enough for a band to reinvent themselves when a well know singer, such as their first frontman, Scott Weiland, leaves. But I thought Chester's addition to STP was a stroke of genius. He had a great voice and style, both of which I felt would mesh well with the Pilots. My feelings were confirmed when the band released a 5 song EP, High Rise, which was brilliant – mixing STP's heavy swing and melodic prowess with Chester's sometimes searing, sometimes smooth, brand of rock vocals.
So when Mr. Bennington decided to leave Stone Temple Pilots, I was very disappointed. An iconic band striking lightning with a 3rdsinger is extremely challenging. When Van Halen parted ways with Sammy Hagar and brought in Gary Cherone from Extreme, who I also liked, I still couldn't muster the enthusiasm to give it a try…and to this day I haven't listened to the album they did with him.
I read the headlines about Stone Temple Pilots holding auditions for a new singer after Chester's departure, but didn't follow the results or the subsequent album that came out of it. It was partly due to skepticism about a third go-round with a new singer who I wasn't familiar with, but a good part of it was my musical interests had moved in a different direction at the time. But an announcement of a new STP tour, with up and comers Rival Sons, and Tyler Bryant & The Shakedown (who I covered earlier in 2019) sparked interest to attend the September 25thshow at the Aragon Ballroom in Chicago, Illinois.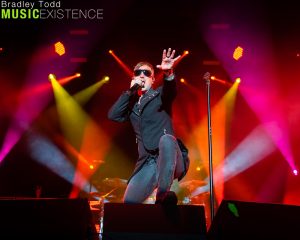 And I'm glad I went because Stone Temple Pilots still rock the f*ck out. Current singer, Jeff Gutt (pronounced Goot) is a great fit for the band, with a powerful voice that matches the tonal range of the Weiland material. He performed it with vigor, passion, and an enthusiasm for interacting with the crowd: he jumped down from the high Aragon stage several times to get close to the fans on the rail, even going so far as the back of the moat that splits the left and right side of the crowd and extends about 50 feet deep from the stage.
Original band members Robert DeLeo (bass) and Eric Kretz (drums) continue to be one of the tightest rhythm sections in rock. Kretz's drumming was very active and heavy hitting, and Robert DeLeo's bass was driving and groovy, and together with the drums, gave the group a  rhythmic, athletic energy. Dean DeLeo's deft guitar work added color, texture and personality to the Pilots' classic hits that they rattled off one after another in a 16 song set that was well received by the crowd (see setlist below).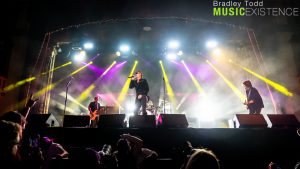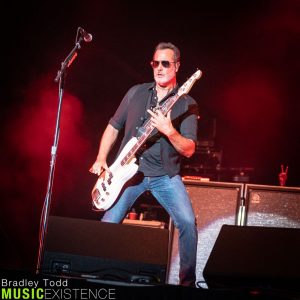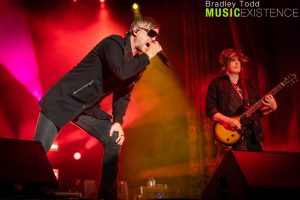 Rival Sons warmed up the crowd with bluesy rock of a 70's vibe, punctuated by singer, Jay  Buchanan's fierce, guttural vocals that have a hint of Paul Rodgers . Tyler Bryant & the Shakedown, a hard rock outfit from Nashville with great energy and chemistry, was the first opener and playing their last show of the ongoing tour.
BAND GALLERIES BELOW SETLIST
SETLIST:
Down
Wicked Garden
Vasoline
Crackerman
Lounge Fly
Big Bang Baby
Glide
Plush
Meadow
Big Empty
Interstate Love Song
Roll Me Under
Dead & Bloated
Trippin' On A Hole In A Paper Heart
Piece Of Pie (Encore)
Sex Type Thing
STONE TEMPLE PILOTS GALLERY
RIVAL SONS GALLERY
TYLER BRYANT & THE SHAKEDOWN GALLERY