For the past decade, legendary guitar hero Slash has been working nonstop within his various projects in the music and entertainment industry. Between getting back together with Gun N' Roses, producing horror films and finding time to advance his solo career, it seems like the top hat wearing man never takes a break. In between a brief pause from GNR's on going "Not In This Life Time Tour", Slash somehow found the time to write and record an entire album with Alter Bridge frontman Myles Kennedy. The two have been collaborating together for over ten years now and show no sign of slowing down anytime soon. Rounding out their incredible band are Canucks Brent Fitz on drums and Todd Kerns on bass, with young buck Frank Sidoris on rhythm guitar. After playing venues world-wide, Slash, featuring Myles Kennedy and The Conspirators capped off another successful run with the release of their new live album Living The Dream Tour (Live).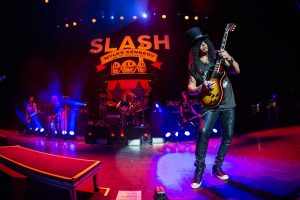 In 2018 hard rock fans saw the release Living The Dream, the ironically titled third album from Slash, featuring Myles Kennedy and the Conspirators (SMKC). The album gave the band their highest charting single yet with "Driving Rain" and saw them touring for the majority of the year. The album's massive worldwide tour presented a sold-out show at London's Hammersmith Apollo Theatre, which attested itself to be the perfect venue to record a live album.
Any diehard fan of Slash would know his appreciation for live albums. The celebrated guitarist found his muse by listening to live Aerosmith records as a kid, and consistently found himself attempting to emulate how Joe Perry and Brad Whitford were playing the guitar. Earlier on in Slash's musical voyage, if a band didn't release an impressive live album, he wouldn't bother checking out the rest of their catalogue. In 2019, the concept of a live album is crucial, given the advanced technologies available in recording studios. More and more artists are presenting a false sonic facade to their fans, yet releasing a live album presents nothing but the truth. Slash and company have perfectly demonstrated their talent and skill on this album, while still finding a way to showcase their onstage musical camaraderie through a recording.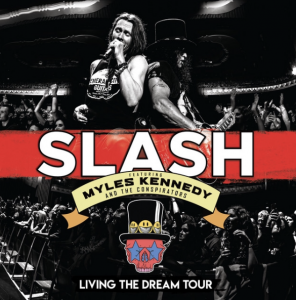 The album begins with "The Call Of The Wild" and "Halo", a new Slash hit and a classic. The incredibly electric English crowd can be heard in the background welcoming back their hometown hero (yes, he's British ), and Slash gives them everything and more. The band continues providing hits as they follow up with two more favourites; "Ghost" and "Back From Cali". From there SMKC aren't shy about playing their new record and feature songs like "My Antidote", "Serve You Right" and "Boulevard Of Broken Hearts".
At this point on the album, it's time for frontman Myles Kennedy to take a break and allow bassist Todd Kerns, to hop on the mic. He does his best to honour passed Motörhead frontman Lemmy Kilmister, and the Godfather of Punk, Iggy Pop, by singing both "Doctor Alibi" and "We're All Gonna Die" from Slash's first solo album.
With Myles back up front, the second half of the record highlights the key successes Slash has had throughout his career. They play "Driving Rain", "By The Sword", GNR's "Nightrain", "You're A Lie" and "World On Fire". The live concept is especially significant here with the audience taking over vocal duties. Despite screaming along to their favourite tracks, the booming presence of the crowd doesn't take away from the band one bit. The eerie tone of 3,000 background singers accompanying Myles Kennedy will give any fan goosebumps, and the extended guitar solos from Slash end the set on an incredible high note. The album's encores include "Avalon" and "Anastasia", the almost ten minute wonder composition that somehow hybrids rock n' roll with classical music. "Anastasia" will never be a part of Slash's legacy the same way his Guns N' Roses songs will, yet somehow his fans resonate with the track on a much deeper level. It truly is a rock n' roll masterpiece for the 21st century, and the extended rendition on this album is hauntingly beautiful.
The vinyl editions of this album are sonically stunning. Slash's seemingly never ending solos are crystal clear, but you can still hear the individual contributions from each of the remaining band members. Between Myles and the crowd, you'll never miss a lyric and the all encompassing setlist provides an educational narrative into the SMKC discography.
Purchase Living The Dream Tour (Live) on Vinyl, Limited Edition Red Vinyl, CD, DVD & Blu-Ray Here
Listen to Living The Dream Tour (Live) Here
Slash Online: Facebook | Twitter | Instagram | Website