Today YUNGBLUD, the British punk rocker/rapper/songwriter who doesn't like to be classified into any specific genre, announced the release of his upcoming EP the underrated youth. Due out October 18th, the EP will feature six tracks including the already released "parents" and "hope for the underrated youth". The announcement also came with the premiere of the official "hope for the underrated youth" video which was shot in Bulgaria, and showcases the biggest cinematic project the musician has released thus far. The images of love, hate, violence and war showcase the tumultuous times the world is living in today, and how the power of young people will be our saving grace.
"I wanted this project to amplify a world that is consumed with unjustified hate. A world, where the common denominator of my generation is the fight for hope, unity and the deep desire for equality. Our ideologies are colliding head on with the hate around us, but we are beating it with a bouquet of fucking flowers! I wrote this project about the people I've met around the world, the stories I've heard and the journeys, that went on inside my own head."
Music Existence interviewed Yungblud earlier this summer right before he hit the main stage at the legendary Reading and Leeds Festival in England. He spoke to us about the "hope for the underrated youth" fan video which projected his song lyrics across the British Parliament buildings in order to send a clear message.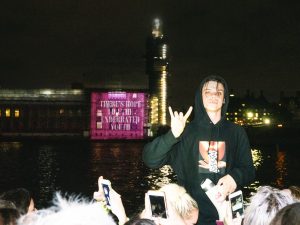 "I had an idea; I wanted to project something on the Houses of Parliament because Boris Johnson was just elected as Prime Minister, which was totally farcical to me… I had wanted to rally my fans and show people what we can do by the power of unifying each other, and how much noise we can make." Read the full Music Existence interview here.
The release of his new EP will coincide with Yungblud's latest run of shows across the US, Canada and Europe. The Twisted Tales of the Ritalin Club Tour, kicked off Monday night in Austin and will continue into late November.
the underrated youth EP Tracklisting:
1. braindead! 2. parents 3. original me (feat. Dan Reynolds of Imagine Dragons) 4. casual sabotage 5. hope for the underrated youth 6. waiting on the weekend
*** This article has been updated. The original release date of Oct. 11 has been pushed to Oct. 18
Pre-Order the underrated youth EP here.
YUNGBLUD Online: Website | Twitter | Instagram | Facebook
Catch Yungblud Live: 
SEP 23 – 
Emo's, Austin, TX
SEP 24 – 
House of Blues Dallas, Dallas, TX
SEP 25 – 
White Oak Music Hall, Houston, TX
SEP 27 – 
The Beacham, Orlando, FL
SEP 28 – 
Variety Playhouse, Atlanta, GA
SEP 29 – 
Marathon Music Works, Nashville, TN
OCT 1 –
The Truman, Kansas City, MO
OCT 2 – 
First Avenue, Minneapolis, MN
OCT 4 – 
Vic Theatre, Chicago, IL
OCT 5 – 
Saint Andrews Hall, Detroit, MI
OCT 6 –
The Danforth Music Hall, Toronto, Canada
OCT 7 – 
Paradise Rock Club, Boston, MA
OCT 12 – 
Union Transfer, Philadelphia, PA
OCT 13 – 
The Lost Horizon, Syracuse, NY
OCT 14 – 
Webster Hall, New York, NY
OCT 16 – 
The Underground – Fillmore Charlotte, Charlotte, NC
OCT 17 – 
9:30 Club, Washington, DC
OCT 26 – 
TivoliVredenburg, Utrecht, Netherlands
OCT 27 – 
Paradiso, Amsterdam, Netherlands
OCT 28 – 
AB Main Hall, Brussels, Belgium
OCT 29 – 
Ancienne Belgique, Brussels, Belgium
OCT 31 – 
Backstage Werk, Munich, Germany
NOV 2 – 
Fabrique, Milano, Italy
NOV 3 – 
X-tra, Zurich, Switzerland
NOV 4 – 
ROXY Prague, Prague, Czech Republic
NOV 5 – 
Proxima, Warszawa, Poland
NOV 7 – 
Kesselhaus, Berlin-altglienicke, Germany
NOV 9 – 
Fryshuset, Stockholm, Sweden
NOV 10 – 
Amager Bio, Copenhagen, Denmark
NOV 11 – 
Pakteateret, Oslo, Norway
NOV 13 – 
Docks, Hamburg, Germany
NOV 14 – 
Essigfabrik, Cologne, Germany
NOV 15 – 
Rockhal, Esch Sur Alzette, Luxembourg
NOV 16 – 
Trabendo, Paris, France
NOV 17 – 
LE TRABENDO (Parc de la Villette), Paris, France
NOV 19 – 
O2 Academy, Bristol, United Kingdom
NOV 20 – 
O2 Ritz Manchester, Manchester, United Kingdom
NOV 21 – 
O2 Academy Brixton, London, United Kingdom
NOV 22 – 
O2 Institute, Birmingham, United Kingdom
NOV 24 – 
UEA LCR, Norwich, United Kingdom
NOV 25 – 
SWG3 Galvanisers, Glasgow, United Kingdom
NOV 27-  
Vicar Street, Dublin 8, Ireland
NOV 29 – 
O2 Academy Sheffield, Sheffield, United Kingdom