Today we introduce you to New York emo punk outfit Live Well. Started by friends Paul Masbad and Max Johl after traveling the country together in late 2017, "Live Well" is more than just a band name to them. It's a shared promise to always do the best they can on and off the stage – one that they've since gotten tattooed as a permanent reminder. This mantra shines through on the band's forthcoming debut-full length, Perfectly Temporary (out now), described by Masbad as "a collection of songs highlighting moments from the past; many you want to move away from but will never forget."  The album's carefree surfer vibes were perfected at Lumber Yard Recording Studios under the experienced eyes of Ace Enders and Nik Bruzzese.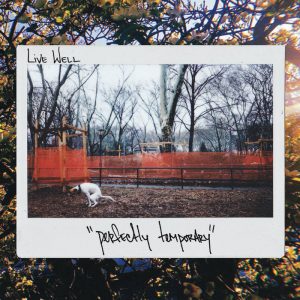 Purchase/stream Perfectly Temporary: Bandcamp | Spotify | Apple Music
How would you describe your sound in detail if talking to someone who has never heard your music?
I (Paul) don't really know how I'd describe our sound. People say we sound nostalgic, which is cool and sometimes can have different meanings depending on the person. We've also been called pop-punk, which is confusing, because I don't think I've ever written a lyric about pizza. But we do have that one where I say I'm stuck at home, so maybe that's all it takes to be pop-punk these days. And we're also described as emo, which — I think — is appropriate. I am an emotional guy. I write emotional lyrics.
How did Live Well come together? Who were the first members?
Max and I took a cross-country road trip in his miniature modded school bus (the same one we use for travelling when we have shows out of state) and on that trip, I'd play some songs that I've written over the past couple of years (most of which are on Perfectly Temporary). When we got back to NY after the trip, he asked me if I had wanted to play music with him and help expand those songs into a full band setting. And we ended up deciding on the name Live Well because we originally got them as matching tattoos. "Live Well" is part of an old saying my mother used to share with her friends, it was: "Live well, have enough, and you'll live a happy life." At first, I felt like it was kind of corny, but now I feel really honored to be carrying on that legacy with this music. The way the band came together feels like it was a whirlwind. From my understanding, he met Matt (our former guitarist) at a party and asked him if he wanted to play music with us. Through that, he brought Luis (our bassist) into the mix. And our drummer, Neil, surprisingly enough, was Max's roommate. A lot of how the band formed felt like we were all at the right place at the right time. And even with our new guitarist, Donald. After Matt had left the band, Max and I made a short list of people who we thought would fit in with us and our dynamic. Once Donald's name came up, it was kind of a no-brainer. I've known Donald since I was in college (about 9-10 years ago), so to have him join and learn the songs while putting his own flavor on them is really special to me. I know that Max is also pretty stoked on this because they used to play in a band together in the past — a band that I looked up to, by the way — so, to have both of them playing music with me feels insane. I feel like Mark Wahlberg in Rock Star. Does anyone remember that movie aside from me?
What show would you consider to be your "breakout gig" to this point?
Breakout gig? That's a little weird. I don't mean it in a negative way, like I'm put off by the question. Because I'm not. I just think that everyone has a different metric of success when it comes to playing music, or life. And "breakout gig" almost sounds like, I've made it, or I've succeeded in someway. Honestly, it could have been any of the shows. Some people like to measure success in numbers, and they'd say shows that were sold out or shows that we sold a lot of merch could be considered breakout. But for me? I don't know. I don't think I've had one. I don't think I'll ever have one. Every show is different. I love each one for different reasons. But I don't think I could decide which one was a breakout gig, whatever that might actually mean.
What does it take for a band to stand out in a music environment like the one you're from?
I don't really know how to answer this. I think there's only one thing that could really make bands stand out and that's honesty. Like raw honesty. Like, hey, if my mom or dad or brother or sister or wife or husband or girlfriend or boyfriend or partner heard this song, they'd think differently of me. Or if they love me enough, they wouldn't. I think it's the uncomfortable type of honesty that makes people stand out. Or maybe, like, if someone is thinking of this in a way where it's like "how does one stand out in order to get signed?" or something, then I don't know. We aren't signed. That stuff is all too serious. It's all about having fun and maybe connecting with someone else. In my experience, the only thing I can control is the amount of fun I'm having playing music with my friends. That's all I really care about. I just want to make my friends smile.
What should people expect from your live performance when coming to see you play live?
I usually play shirtless. I like doing it. I mean, I know it's a little machismo and might be off-putting to some people, but I have a lot of body image issues and playing shirtless really helps me with that. And other than that, I don't really know what people should expect. I think about performing a lot. Like almost too much. I want people to remember what they saw when we were up there. And I want my best friends/bandmates to have a fun time as well. I keep trying to think of ways to elevate the performance. Sometimes I walk into the crowd if it's possible. One time, I went and took selfies with people. For me, it's about making memories for the people who paid money to see us. I want them to take something home if they aren't taking home a piece of merch.
Who writes the songs for the band, is it a collaborative effort?
I write all of the songs for the band. I usually come up with something and record it on my iPhone and bring it over to Max where he arranges the song to fit a full band setting. Then we bring it into practice and all the other parts come into place with suggestions from me or Max but usually each bandmate comes up with their own parts and stuff like that. It's kind of like building a house. I come in with a foundation, Max builds the framework, then we all get together and put up the walls, paint, decorate, and by the time we're done a song is living in that thing, and we're all pretty stoked on it.
What should people expect from you in 2019?
We just came home from our short-run to support the release of our first full-length album "Perfectly Temporary." As of right now, that feels like the biggest thing we had going in terms of "Standard Band Stuff Bands Say in Interviews". But for me, I'm really trying to explore different issues and topics in my songwriting. I recently turned 30 , nd I have a bunch of different things running around in my head. I'm not as concerned with drinking or using anymore, I don't really care that one of my ex's cheated on me that one time. I'm done writing songs about that stuff, it's embarrassing, in my opinion. These days I'm thinking about what it means to be a good partner, a good human, or my parents and how they're getting older. I'm thinking about my place in this scene as a Filipinx-American, or as a band with four POC, I'm thinking about our place in the emo-punk scene. That's the interesting shit to write and sing about. I'm growing up and I want my music to grow up with me.
If you could tour with any artist who would it be?
Press Club
Joyce Manor
What is one thing you've learned in the last year that you wish you knew when you started out?
I wish I knew how to loosen up. It's still something I'm learning. I was so tight and stiff when we first started playing out and that's mostly because I've never been in a band before. I've never been a front person. It's difficult. But with those first couple of shows, I wish I focused on having fun. I don't regret it or anything but it would have made those first few months a lot easier on me. Making music and playing it is a lot of fun, and it should only be about that. It doesn't matter if there's 1 person or 1000 people in front of you, it should always be about having fun.
Who is the most influential artist to you personally?
Musical artist? I don't know. I'm not sure. Maybe The National. TV on the Radio. I don't know. When it comes to playing music, being in a band, and performing, I find more inspiration from professional wrestlers. Especially the less famous ones. They do this really wild thing every weekend with the hope they'll maybe one day be on television. They probably won't, but they still do it. And that's awesome to me. To continue doing something that you love simply because you love it. That's more inspiring than any rock or pop or hip-hop star to me.