Montreal based pop artist laye is no stranger to creativity. She expresses her music not just sonically, but also through impressive visuals, textiles, self expression and spoken word. Her new music video for "sicker" exemplifies all these elements and more in the visually stunning piece of art directed by Summer O'Grady. Music Existence spoke to laye about the "sicker" video, her varying creative outlets and upcoming plans for 2020.
ME: You're one of the primary pop artists out of Montreal over the past 12 months, but you've also got quite the presence in Toronto too. With Montreal notoriously known as Canada's Arts and Culture hub, do you think Toronto has gotten better at embracing the art's recent years?
laye: That's an interesting question because for myself- I have yet to really dive into the Montreal art scene. When I started focusing on music it kind of took me elsewhere right away, and then once I signed to my label, their main office was in Toronto and naturally I ended up out there a lot for both meetings and recordings. I don't know what Toronto used to be like, but while I've been here there's definitely a large community of both producers and artists which make it easy to stay creating without having to book a flight to LA or elsewhere.
ME: The lyrics of "sicker", warns about the dangers of drugs and alcohol, but also of social media. What's your biggest concern with social media platforms in the digital era?
laye: It's definitely a pros and cons thing. Social media is amazing for so many reasons but there's a lot of bad that goes along with it. It definitely makes you hyper aware of what everyone else is doing as well as where you're at, so I think it does cause a sort of comparison mentality amongst many, especially the youth. I almost see it as an online version of high school. I think it's also dangerous because there's a lot of anonymity and that's where you find people becoming brave in sharing negativity which is fucked up and not needed.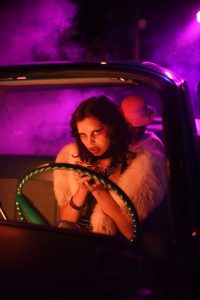 ME: The visual imagery in the "sicker" video is amazing, where did the inspiration come from for the neon lights and glitter? It reminds me of scenes from HBO's Euphoria.
laye: The visual for 'sicker' was meant to be a loose representation of the lyrics, being confident in yourself, but with a fashion-editorial twist given to it by the director (as well as makeup artist), Summer O'Grady. I haven't actually seen Euphoria yet but I've been working with Summer for over a year now and we've been doing the looks you see in the music video in our shoots and we'd been wanting to do a visual incorporating that as well. She takes a lot of her inspiration from the fashion world and fashion films; Pat McGrath, Steven Klein, Nick Knight, Steven Meisel and the list goes on if you were to talk to her. She's just insanely talented and imaginative. She really takes in the clothing, the setting, the atmosphere and the story along with my personality and then creates a look with elements of it all.
ME: What was the significance behind the religious paintings throughout the video?
laye: The setting we shot in was amazing. It had beautiful Victorian elements and velvets and paintings and it was what we were looking for aesthetically. Which was sort of a full circle moment for me because Summer had done my makeup in the past for my very first visual and for that video I had intended to shoot in a setting like the one we used for 'sicker' but it didn't end up happening. To be able to have that setting in a video that Summer was now directing and one that we both wanted to represent 'embracing yourself' it was nice to be able to do a shoot with a room that I felt represented what I had wanted and that went with the world Summer had created.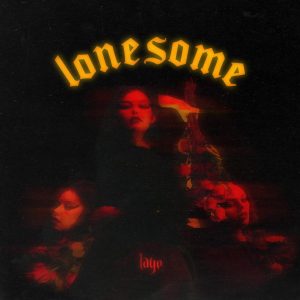 ME: You've had a busy year with the release of your album lonesome, who were some of the major influences you were listening to when making that record?
laye: I tend to not listen to music while creating music. But when I do it's so far away from what I'm doing. In general, I tend to put on 50s playlists on Spotify or something, or Leon Bridges or Bon Iver.
ME: Where do you see your sound evolving on your future records?
laye: Darker, moodier, weirder- originally I saw myself as a dark Alt/R&B act, not a pop singer but this project went that way (while I kept the visuals closer to what I envisioned) and I was happy with the result, but I'm still dying to do an album that I feel fully represents myself. And I'm sure it'll still be pop- but in a way that's closer to my heart.
ME: Your style and aesthetic is a huge part of your image, what designers or trends do you admire in the fashion world?
laye: I want to get into the fashion world more. I have mostly thrifted items in my closet but this past year I've really been looking into local and international designers that I find are both experimental and exciting. I've been loving Eloise Hanikene's work from London, very English Medieval inspired work that is both beautiful and gruesome. There's Brielle from Montreal, I've been lucky enough to have had a peak at one of her current projects and it's very intriguing- as well as the works that she already has out. There's R & M Leathers from England, just hot hot hot! There's Jivomir Domoustchiev, a designer from London that does some pretty iconic work. Man, I don't know- the fashion world excites me because it's just a whole other element to expressing yourself- it's such an amazing form of art.  
ME: Apart from music and fashion, are there other ways you like to express yourself creatively?
laye: I like visual arts- I want to dive into that more, creative directing others.
ME: What's next for you in 2019 and early 2020? 
laye: Keep your eyes out for a possible tour and of course I'll be back working on album 2!
Check out laye's debut album lonesome here
Check out laye on social media:
Instagram | Twitter | Facebook | Website