Atlanta-based pop/rock band OBB have released the perfect pop anthem, "Foolish", as their third official single to come out this year following "7 Billion" and "Close By". The fun, light-hearted new single perfectly portrays the phase of crushing on someone new where you start to act foolish or silly around them in a way that everyone around you can see but you just can't help it. These catchy lyrics are complimented by the single's fun, upbeat, feel-good sound that combines strong rock and electronic-pop elements. It's the kind of song that makes you want to hop up and dance around your room or roll down the windows on a drive while belting out the lyrics. "Foolish" is guaranteed to be your new favorite summer anthem just in time to wave goodbye to summer 2019.
Purchase and Stream "Foolish" on the OBB website now: https://obbmusic.com/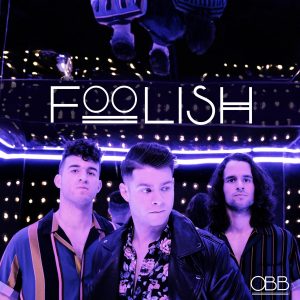 This pop/rock trio comprised of the three Oswald brothers Zach, Jacob, and Nich, has been a force to be reckoned with this year with the release of their 3 latest singles, a self-directed music video for "7 Billion" that has surpassed over 500K views, as well as recently wrapping up their nationwide summer/fall tour that ended with an appearance on Good Day LA and a performance at Bite of Las Vegas.
To wrap up the end of 2019 the band has teased a new music video for "Foolish" coming out soon and has two remaining tour dates in the books.
Upcoming OBB Tour Dates
10/4 – Newport News, VA @ Christopher Newport University
10/15 – Morehead, KY @ Morehead State University