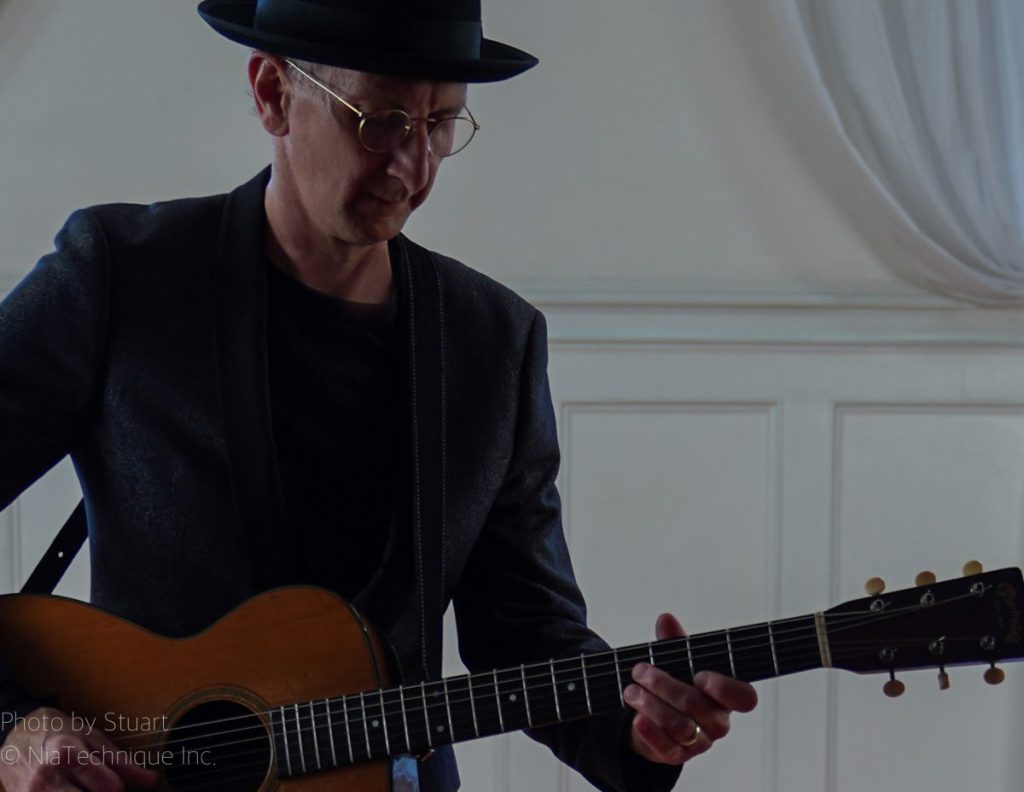 The acoustic blues of Terry Robb's "How a Free Man Feels" from his latest album release Confessin' My Dues doesn't sound dated as all to my ears. Music like this has a level of timelessness untouchable by fads or fashions because, at its heart, "How a Free Man Feels" is an audio document of a man communicating to his audience. There are no alternative agendas. The language, musical and verbal, is direct and lean without ever shortcutting listeners and Robb's vocal establishes the same clear connection. The production of this single doesn't have a lot of musical elements to contend with but is nonetheless top notch and maintains an excellent balance between its distinct threads. Robb ties everything together into a polished effort complemented by an equally straight-forward video free from extravagance or self-indulgence.
URL: https://www.terryrobb.com/
The video features nothing more than Robb and his guitar standing in front of a old-fashioned microphone as if he's cutting the track live for viewers. The only stylistic adornment marking the visual presentation are a handful of close-ups and it is telling that, even in a staged performance like this, Robb seems lost in a spell of some sort. His investment in the song is obvious. "How a Free Man Feels" benefits from this uncluttered and no frills presentation – anything more than that would have been much.
His fluid finger picking style on guitar has many fans throughout the music world, fans and peers alike, with good reason. Astute listeners will note how it acts almost as a second vocalist working in counterpoint to Robb's voice and the consistent quality of that interplay never slackens. The song's verses are structured in a traditional blues style in three line blocks with strong payoff lines. Despite this obvious reference to tradition, Robb never sound like he's imitating past glories. "How a Free Man Feels", instead, comes off as the product of a canny musician utilizing a time-tested form for his own use and making it his own.
YOU TUBE:
It is amazing how much he accomplishes in less than two minutes. "How a Free Man Feels" is a brief song, one minute and fifty eight seconds to be exact, but the condensed focus leaves nothing out as Robb depicts the longing of someone long imprisoned. The nature of this imprisonment isn't writ in stone; you can interpret this song in various ways. Robb does an excellent job of conveying that aforementioned longing without ever overplaying his hand.
This new single "How a Free Man Feels" furthers Robb's reputation and adds to his growing legacy as one of the most talented practitioners remaining of a musical style that has long fallen out of commercial favor but still retains its power to enchant and captivate listeners' hearts. It is a excellent preview of his latest album Confessin' the Blues and shows off the talents that have placed Terry Robb at the forefront of American music for decades. I expect that he will continue to write, play, and sing for years to come.
Loren Sperry