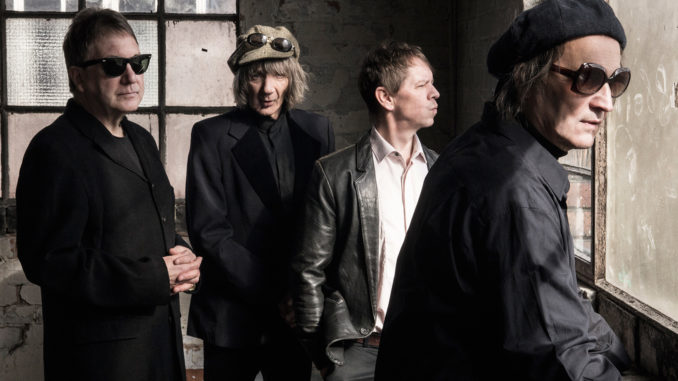 The ninth studio release from UK four piece Diesel Park West, Let It Melt, opens with the title song. It has a rollicking Rolling Stones-like groove and biting lyrics guitarist, singer, and songwriter John Butler delivers with equal parts sneer and swagger. Butler and second guitarist Rich Barton is a longtime six string tandem who play with much ballyhooed telepathy and their interlocking weave of rough-hewn chords and riffs gives "Let It Melt" plenty of bluesy grit for the album's kick off. Barton's backing vocals ably support Butler's voice on the album's second track "Pictures in the Hall" – the arrangement is, likewise, a bit more involved and melodic than we hear from the album's title track. The rhythm section of bassist Geoff Beavan and drummer Rob Morris are unobtrusive but steady throughout.
URL: https://www.dieselparkwest.com/
"No Return Fare" puts a different spotlight on the band's songwriting than listeners experience with the preceding two tracks. The musical arrangement reflects this as well; Diesel Park West, rather than focusing on electric guitars alone, brings acoustic guitar work into the mix and it adds welcome layers to their performance. Butler writes about the world and its machinations in a way that never dates. Rob Morris' drumming is a key component in the success of the album's fourth track "The Golden Mile" and sustains its brisk but unerring pace for the song's entirety. There's a rambunctious flavor to Barton and Butler's guitar playing and it is near impossible to distinguish where one guitarist begins and the other one ends – their seamless union of sound will impress all but the most jaded listeners.
The mature songwriting point of view heard in the aforementioned track crops up once again in the next cut "Scared of Time". These aren't songs you write when you are twenty five, skies are always blue, and the road ahead seems endless and blooming with promise. Diesel Park West, however, never allows their thoughtfulness and introspection to neuter their musical energy – instead, it informs it and deepens the content. It's one of the best songs included on Let It Melt. "Living in the U.K." turns a withering, slightly jaundiced gaze towards the band's homeland but Butler's point of view isn't entirely dire. Diesel Park West, Butler especially, once again invokes a Stonesy feel without ever sounding too imitative.
"You Got the Whole Thing Wrong" goes full blown bucket of blood blues with roadhouse piano and harmonica punctuating the track. Butler latches onto a scolding, declamatory vocal apt for the tune and rides the groove with the sort of expert skill born of considerable experience. The bass and drums swing like mothers on this tune. The track has an appealing ramshackle quality and some careening lead guitar that strikes just the right note.
AMAZON: https://www.amazon.com/Let-Melt-Diesel-Park-West/dp/B07T4N5BFG
Diesel Park West closes the album with the track "Incredible Things" – it's a solid final curtain for the album, not one of its best tracks, but a satisfying conclusion for the release that finds them sounding just as engaged as they did at the album's beginning. It is a track likely to find its proper footing in live performance. Let It Melt is a physical and deeply felt release – this is the sound of a band that, far removed from their humble beginnings, still believes in what they are doing and never go through the motions.
Loren Sperry