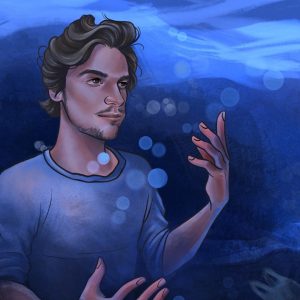 Maxime Boublil is a singer-songwriter from Paris, France. Both of Boublil's parents had been deeply involved in musical theater during his childhood years, his father having written Miss Saigon and Les Miserables, while his mother portrayed the first Cosette in the latter's local production. After over a decade of classical cello training, as well as a brief photography stint at San Francisco's Academy of Arts later on, Boublil found his calling upon a chance practice with an acoustic guitar in his friend's dorm room. This time composing original songs on a regular basis, he soon switched his major to Music in Visual Media. His consistency would pay off when, under the tutelage of three-time ARIA Award-winning audio engineer Doug Brady, Boublil pursued a career at Furstock Studios in Kensington, Australia. He would eventually release music under the mononym Maxime, debuting with the single, "The Last Breath," in 2017.
In late May of this year, Maxime followed up with The Honest Me Pt. 1, a mesmeric debut album that provides an improved showcase of his artistic individuality. Opening on "Is This Love," the album aptly sets a raw, unapologetic foundation bolstered by a simple, but effective tap progression. Based on the way the song advances thematically, as well as Maxime's vocal delivery, I related to his scenario of feeling a sensation he'd once perceived as love, only for it to confusingly vanish, thus leading to uncertainty. The added string accompaniment makes a decent indicator for the song's increased intensity, which is subtly implemented in his somber, low singing tone. "W.T.T.W. (Welcome to the World), the track to follow, seems to expand on the notion of grasping the hardships of reality. It's the idea that regardless of how strong a bond with someone may be while that person is alive, there's a realization they'll become more of an afterthought as they pass away, and their friends move forward. Wrapping side one is the track "Look At Me Now," which effectively plays as Maxime's current state of despair as a result of experiencing those emotions. There's also a way in how the song's instrumentation indirectly alludes to the cover art, as if he is drowning, but with a surprising sense of certainty and, to an extent, grace.
On the flipside are the connected tracks, "Little Words" and "Apologies," both of which center around ill-fated verbal exchanges. Whereas the first highlights the irrational, grandiose lengths that someone goes to when interpreting otherwise simple remarks, the other acts as a response – a straightforward plea of forgiveness after one's exhibiting emotional immaturity. From there, the penultimate "Damned" deepens the subject's internal perspective as he ventures into the dark, enigmatic confines of his mind. At this point, the string arrangement works especially well alongside the chord sequence of the verses, somewhat deviating further from the constant, up-tempo pop fare. On the other hand, the final track is rightfully hopeful, Max exhibiting a more controlled, confident delivery throughout. Even as the album reverts to a conventional, radio-friendliness, the move is justified in showcasing the breakthrough of a newly-awakened, and ultimately recovered spirit.
Overall, The Honest Me Pt. 1 fulfills its purpose as a further-fledged expansion of Maxime's songwriting merits, as well as his engineering abilities. Each song is a genuine, thoughtful anecdote, enhanced by a nuanced sonic presentation that brings his unique brand of guitar-driven folk to life. I look forward to how Maxime's talent and insight will continue to be expressed in part 2.
Maxime Socials:
Facebook|Instagram|Twitter|YouTube|SoundCloud