---
Sleep On It have shared "After Tonight", the third single from their upcoming album Pride & Disaster, out September 13th via Rude Records. The new music video shows a friendly competition as the band members fight for the "Dare Night" trophy.
Pride & Disaster is the follow-up to 2017's Overexposed, and features additional production by Kyle Black (State Champs, Pierce the Veil, All Time Low). Since the release of Overexposed, the Chicago four-piece has toured with the likes of State Champs, Waterparks, With Confidence, Broadside, and This Wild Life, and made appearances at a number of festivals including Riot Fest, Slam Dunk, and the Vans Warped Tour. Following Overexposed, Sleep On It was named one of Kerrang!'s 'Hottest Bands of 2018', and was featured on the 2018 Warped Tour Compilation album.
With Pride & Disaster, Sleep On It harnesses the strength and vulnerability of the human spirit. Over the course of ten songs, they makes a case for enjoying life, even when times are tough, and never shying away from your truth.
"One of the big things we focused on when making this record was not only writing sad songs," Pluister says. "Going along with the theme of growth, we wanted to show that there is more to life than just being sad. As hard as life is, there are still good days, and we really wanted that thought to be present in this record. It doesn't seem fair to us to only portray the hard times."
The positivity found throughout Pride & Disaster adds a silver lining to an album that is also unafraid to address the problems that many, including the band, face with mental health.
"We're trying to be better every day," says guitarist TJ Horansky. "And that's what a lot of our songs are about. We want to be better people. We want to improve ourselves, and we want to help the people around us improve as well."
Pride & Disaster album art: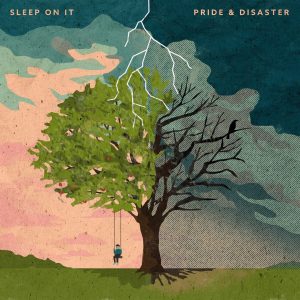 Pride & Disaster track listing:
Racing Towards A Red Light
Hold Your Breath
Babe Ruth
Under The Moment
Fix The Dark
After Tonight
Take Me Back
The Cycle Of Always Leaving
Logan Square
Lost & Found