Toronto, ON based Dark Alternative Rock Band A Primitive Evolution has released the official music video for "Becoming." Directed by A.P.E. and Davey Bones, "Becoming" is the title track off of the band's recent album, out now on Metropolis Records.
"Becoming" for me is the culmination of my life's work. It's the album I always dreamed of making. It takes all of our influences as a band and wraps them up into one package. When we started "A Primitive Evolution" we had no idea where it might take us. I feel so proud that were able to create and write this album together as a team and collaborate with friends and people who inspire us."
Becoming album art: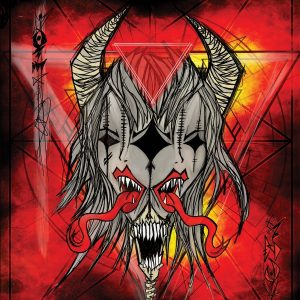 Becoming track listing:
1. I Am An Infinite Cycle
2. Who's Your Maker?
3. The Beauty
4. Close Your Eyes
5. Ghost
6. Dead Skies
7. We Are The Truth
8. Becoming
9. Skeleton
10. Picturesque Hell
11. Better Off Dead
12. Live Forever
13. Echo
Download / Stream Becoming Online:
iTunes | Spotify | Amazon | Googleplay
Click HERE to Purchase Becoming Physical CD!
A Primitive Evolution will also be joining PIG and Cyanotic on their Fall 2019, Divine Descent US Tour.
"We are thrilled to be going out on this tour with PIG and Cyanotic. The last year has been a whirlwind of emotions for us. Signing to Metropolis Records was a big win but we also lost a very good friend and producer of our first album, Matthew von Wagner. We look forward to unleashing some of these emotions on the stage in his honour. This is our first extended US tour so we really can't wait to connect with fans old and new in these cities" says Brett Carruthers speaking about the upcoming tour
Tour Dates:
09/19 @ Sneaky Dee's Toronto, ON *
09/20 @ @ Mohawk Place – Buffalo, NY *
09/21 @ Phantasy Nightclub Cleveland OH *
09/23 @ Small's – Detroit, MI
09/24 @ Cattivo – Pittsburgh, PA
09/25 @ Metro Gallery – Baltimore, MD
09/26 @ Bar XIII – Wilmington, DE
09/28 @ Chameleon Club – Lancaster, PA
09/29 @ Fallout – Richmond, VA
09/30 @ Drunken Unicorn – Atlanta, GA
10/01 @ Soundbar – Orlando, FL
10/02 @ Crowbar – Ybor City, FL
10/03 @ The Goat – New Orleans, LA
10/04 @ The Crackfox – St Louis, MO
10/05 @ Riot Room – Kansas City, MO
10/06 @ Mortimers – Minneapolis, MN
* No Cyanotic
Click HERE for Additional Dates and Ticketing Information
Connect with A Primitive Evolution:
Official | Facebook | Twitter | Instagram