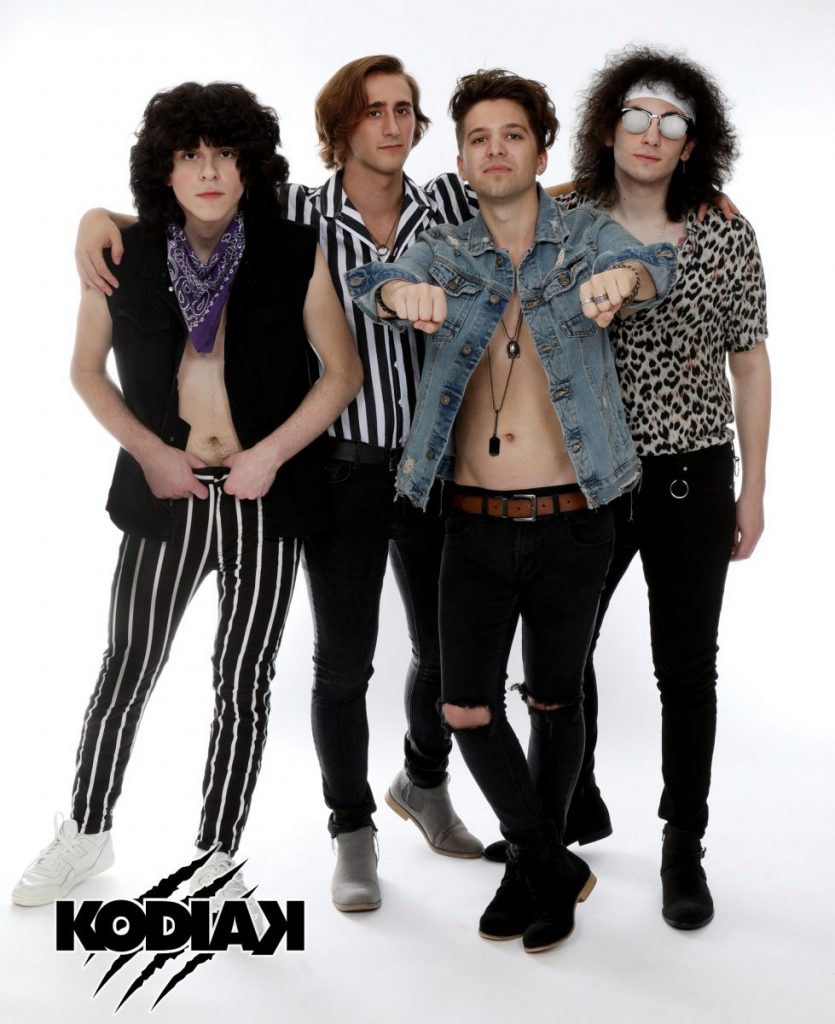 Kodiak's second single "Alone" offers a wider listen to the talents of a young New Jersey based hard rock quartet ready to explode on the national scene. The time is ripe. Young rock bands are a hotter commodity than they have been in ages in the wake of Greta Van Fleet's unexpected success and it is natural for enterprising impresarios to seek out acts with a similar pedigree and commercial upside. Kodiak is destined to enjoy the same success without following the same musical path their contemporaries have walked.
The new single is presumably one of the stronger tracks included with their forthcoming debut album and has a different personality than their first single "Goodbye". The latter track is akin to a musical clinched fist; Kodiak hammered listeners with an unforgiving hard rock guitar and rhythm section attack that pummeled you into happy submission. "Alone", in contrast, is a more expansive and inclusive cut without compromising their core sound. It has mainstream strengths that will widen the band's audience beyond the contingent of fist pumping rock mavens who welcomed their debut single.
It is a song begging for audience participation. Kodiak write and play songs capable of making quite an impact in studio form, but it is clear their writing eyes a bigger and arguably more important goal – they aim to craft first rate rock tracks that will bring live audiences to their feet. "Alone" is a certain crowd pleaser for a variety of reasons, but the freewheeling passion of the lead vocal and exuberant chorus is chief among them. The chorus provides a natural peak in the performance when the track's gathering musical energy red lines and explodes for listeners.
Kodiak's video for "Alone" exhibits tremendous imagination and labors under few of the standard clichés common to hard rock videos. It isn't the golden age of MTV videos anymore, but promotional clips like this still serve a purpose by giving visual definition to a band for those who may not soon have the opportunity to see them live. Their personalities come through in the video despite mixing a variety of animation styles with live action footage.
I love the vocals. There's only a little accompaniment from backing vocals, but that is far from a misstep. The lead vocals are powerful enough on their own to carry the song and crackle with charisma and warmth throughout the track. They benefit from strong interplay with the lead guitar. Kodiak has a single guitarist, but it doesn't restrict them in a significant degree. Many prefer two guitar lineups to fill potential holes or "gaps" in the band's sound, but you'll hear nothing of the sort from this single. The lack of any extended lead guitar break may be heard as a concession to that, but I hear it in a different way.
YOU TUBE: https://www.youtube.com/watch?v=9ng4lc6yN98&feature=youtu.be
You can't nor shouldn't label Kodiak with terms like "hair metal" or "retro rock". They share an affinity for certain aspects of 1980's-90's visual presentation, yes, and it helps establish a reference point for viewers and listeners. It is also true they are well versed in the twists, turns, and formulas long ago set down by bands as varied as Van Halen, Warrant, and other acts from the hard rock scene of decades past. In the end, however, I think their songwriting stands on its own and they bring something of themselves to "Alone" that will only grow over time.
Loren Sperry