Like Machines are a 3-piece hard rock band from Atlanta with a massive sound. Previously they have released two songs with thought-provoking (and wildly different) videos that are getting a lot of attention. The tracks were added to various playlists including Loudwire's Weekly Wire, Spotify's Hard Rock playlist and Octane's Test Drive. Renowned DJ Eddie Trunk has called them out as a band to watch.
Today, Music Existence is happy to present the exclusive premiere of their newest song, "Run, Hide" listen now via your preferred digital platform HERE.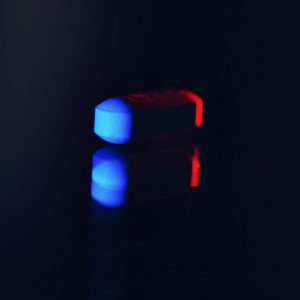 We Chatted with the band's bassist Tanner Hendon about the band and their music, read through our conversation now.
How did you get started in music?
Music has always been a huge part of my family. I have been into it for as long as I can remember. My parents have home videos of me at like 4 years old performing. I would watch Elvis and Elton John live videos, and would learn all their moves, down to even what they said in between songs. But around 10 years old is when I really started playing. I started on drums, and then learned bass, guitar, and keys as well.
What show would you consider to be your "breakout gig" to this point?
The next gig is always the most important one! But we have been very fortunate to have shared the stage with some awesome acts like Collective Soul, Fozzy, Clutch, Tyler Bryant & The Shakedown, and more. It's hard to say what show was a "breakout" show. Every show moves us forward in a positive direction.
What does it take for a band to stand out in a music environment like the one you're from?
Great question. I think probably one of the most important thing for any band to do is just keep at it. You of course have to be good and make something that's new and fresh, but I think keeping at it and putting in the work is something that a lot of bands don't do. You've got to take rehearsals seriously and all the "not fun" stuff seriously. You can't just go out and "play rock star" and expect things to happen.
What should people expect from your live performance when coming to see you play live?
Authenticity. We are just three guys up there trying to make the most massive sound we possibly can. There are no tricks, it's all us. It's heavy, high energy, and real.
Do you typically write your own songs?
Yes. It usually starts with some sort of guitar riff and a few jam sessions. We really try to try out lots of different ideas before we commit to a song being "finished".
What should people expect from you in 2019?
Well, thus far we have released two singles and two videos, with a third coming in a few weeks. We've got a few scattered shows scheduled but plan to continue to release more music throughout the rest of the year, and continue recording for our new album.
What was the first album you purchased?
I can't recall exactly, but it was probably an Incubus or Velvet Revolver album. Around 12 or 13 years old is when I fell in love with hard rock so it was likely one of those artists.
First concert you attended?
Elton John. I don't remember it because I was very young, but I wore a tux like one that Elton wore in a live video of his. We were in the front row and Elton saw me, lifted me up on stage and held me up in front of the crowd. Maybe I should keep wearing tuxes on stage haha.
Most influential band to you personally
Elton John. I didn't have a choice. He was the soundtrack to my childhood. Other notables though would be Velvet Revolver, Jeff Buckley, and really it just depends on the day! This is the most impossible question ever! So many artists have influenced me at different times in my life. When I put on their record it takes me back to the place where I first heard them.
Like Machines online:
Official Website | Facebook | Instagram | Twitter | YouTube | Spotify | Apple Music