Since 2014, DOROTHY has been turning heads in the music industry. The band's easy to love, California rock persona has made them a staple on the US festival circuit, where they have gathered quite the following over the past few years. With a new found appreciation for Rock n' Roll in 2019, bands like Dorothy are earning even more attention from kids who can't relate to the Hip Hop and EDM dominated Top 40 charts. Having two albums released under Jay-Z's Roc Nation, fans are eager to see what's next for the Los Angeles based rockers, who have spent the majority of the year on the road. Music Existence spoke to frontwoman Dorothy Martin about staying healthy on tour, musical influences and their long awaited third album.
Born in Hungary but raised in San Diego, frontwoman Dorothy Martin received the type of musical education necessary in order to become a great songwriter in 2019. Her father used his impressive vinyl collection to educate her about influential bands from the 1960's and 70's, which included everyone from Creedence Clearwater Revival to Pink Floyd. It would be later on when she discovered her own love for heavier Rock n' Roll, where she embraced all styles from hair metal to grunge. Bands like Mötley Crüe, Nirvana, and Black Sabbath all played an important role, however her evolution into becoming an impressive vocalist did not derive from rock music.
It would be Dolly Parton's influence that initially encouraged her to become a vocalist and little did she know; she would eventually have the opportunity to collaborate with her in the future. It was Dorothy's manager, Linda Perry (legendary musician, songwriter and producer extraordinaire) who called to inform her that she would be in the studio with one of her idols, exactly one day after getting off tour.
"I was like, are you kidding….yeah okay no pressure! I hadn't slept in days, so I was just like I can't believe this was happening, it was very surreal." Dorothy topped off a very successful 2018 featuring on Dolly Parton's "Two Doors Down" for the Netflix released Dumplin' soundtrack, which also featured Macy Gray, Miranda Lambert and Mavis Staples.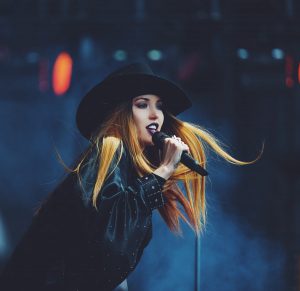 The collaboration wasn't the only milestone for the band in 2018, who also released their sophomore album, 28 Days in the Valley.  Recorded in under a month in Los Angeles' San Fernando Valley, the frontwoman decided for a completely fresh start, which included an entirely new band, new team and new approach to music. While Dorothy's debut album ROCKISDEAD contained louder and heavier songs, the album also had a completely diverse personality behind it. Heavy hitters like "Raise Hell", "Whiskey Fever" and "After Midnight" allude to the classic Rock n' Roll clichés typically associated with a musician lifestyle, which is not the direction the band wanted for their second release.
Prior to recording the band's second album, Dorothy decided to focus on her sobriety and has since become an ambassador for fellow addicts in recovery. "For me I thought I had a problem, and I was struggling with it for a long time. Just hearing certain things from certain people, kind of planted that seed and it didn't really blossom until later. One of the things that did it for me was like, 'No one ever quit drinking and said that was a bad decision', I thought that was funny at the time, but that was very true…'If you think you have a problem you probably do', 'If you can't stop drinking, then you might have alcoholism' and all those things stuck with me."
The result was 28 Days in the Valley, a whole hearted, soulful and enlightened approach to rock music. The album's single "Flawless", reached Number 8 on the Billboard Rock Charts, which would become their highest charting single yet. Following the release, they embarked on a tour opening for seventies rock revivalist Greta Van Fleet. The opportunity exposed them to a multitude of new like-minded fans, spanning across all ages and generations. From there they continued headlining their own shows, only to announce they would be on the road again, embarking on their longest touring stint yet.
On the road with Breaking Benjamin, Chevelle, Three Days Grace and Diamante, Dorothy spent the entire summer touring, and will continue doing shows into the fall. "It's been really good….. it's totally like a rolling festival. We don't get a soundcheck so it's turning us into a really good festival band!"
Live in concert, Dorothy is a force to be reckoned with. Her signature powerhouse vocals take you back to Janis Joplin's days in the 1960's, but the band's impressive harmonies are comparable to that of the Eagles. Bass player Eliot Lorango stands out throughout the set with his inventive basslines, while harmoniously connected to drummer Jason Ganberg at all times. The band's rotating guitar players keep things classic with their iconic West coast rock sound, and memorable riffs perfect for singing along.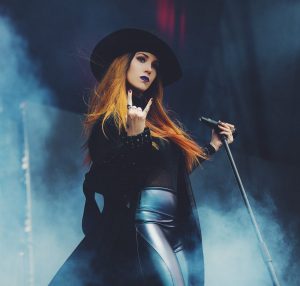 After this tour, it will be back into the studio to begin work on their long awaited third album. "It's long overdue, and I'm going to take the reins on this one! I've been listening to a lot of Black Sabbath, Iron Maiden and just old, old school metal and old school rock."
"I'm so excited, I have the best musicians in the world! I can't say too much about it, but Elliot and Jason, they're the rhythm section and they're stuck there, they're never leaving me! They're locked in and they're so excited to make this record. I don't know who is going to produce it, I really don't, it just might just be a surprise from the universe."
Fans will be eager to see if album three will go back to Dorothy's initial ROCKISDEAD roots, continue on the 28 Days In The Valley vibe, or see a combination of the two. Regardless of which musical direction the band decides to take, rest assured the full-length album will have a varying amount of well-written rock tunes ready to fill your soul. The versatility of Dorothy's catalogue makes their music the perfect addition to any road trip playlist, party playlist or breakup playlist, providing a musical soundtrack for whichever type of healing you may need. Listening to this band, and better yet, watching them live is an absolute indulgence and proves that Dorothy is one of the key players in the Rock n' Roll revival of 2019.
DOROTHY Online:
Facebook | Twitter |  Instagram | Official Website | Music