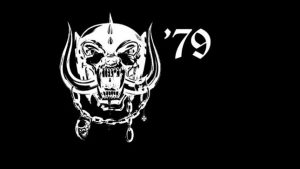 1979 was a big year for English metal band Motörhead. The releases of "Overkill" and "Bomber" cemented their place on metal's Mount Rushmore. The band at that time consisted of the legend known as Lemmy Kilmister, Phil "Philthy Animal" Taylor, and "Fast" Eddie Clarke, who paved the way for the fast-paced thrash metal that would dominate the following decade.
"Overkill" released in March of '79 and is a balls-to-the-wall album filled with haunting vocals from Lemmy and the band's trademark aggression. Propelled by songs such as "Overkill," "Stay Clean," and "No Class," Motörhead created the mythos of being the hardest, toughest band England's ever produced. By '79, most of what was considered "hard rock" was  filled with meat and potatoes bands that keep classic rock radio afloat to this day. Bands such as AC/DC, Ted Nugent, Van Halen, etc. created albums that played it safe by the genre's standards, whereas Motörhead kicked down the door and forced a seat at the table. The inclusion of live material as well as their 1978 single "Louie Louie" made the deluxe remaster of "Overkill" near perfection.
The other album included in the 1979 boxset is "Bomber," which was released in October of '79. "Bomber" is more of the band's badass heaviness turned up to eleven. The title track has infectious guitar riffs and a chorus that drunken metalheads have been yelling for the past forty years. "Sharpshooter" creates an atmosphere of pure glee as Lemmy belts out the song's title over and over again. The remastering of the original tapes is as clean as a Motörhead album could get. Although Lemmy was never a great vocalist, his voice melds well with the instrumentals of each song. "Dead Men Tell No Tales" should be in the conversation for greatest opener to an album. 
"Bomber" is one of the greatest metal albums ever made, and the fact BMG put out a meticulous , as well as a boxset, makes it all the more sweet. For $175, fans get two of Motörhead's greatest albums with mountains of unreleased live songs, B-sides, and other goodies for fans. Pick up the "1979 Boxset" if you are a lover of metal; it's definitely worth the financial and time investments.