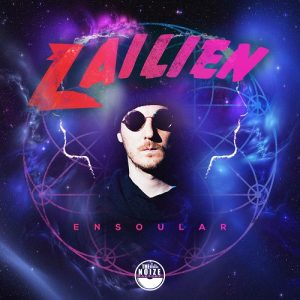 Lailien functions as both the pseudonym and alter ego of Bradley Shubat. Based in Toronto, Canada, the composer, producer, and director initially developed his musical sensibilities through piano at age 5. Shubat's influence scope throughout adolescence would further expand to include equal traces of alternative rock, jazz, electronica and pop, all combined into one distinctive identity. Eventually, that identity would mutate into Lailien (a fusion of the Arabic word for 'night' – 'laili'– and 'alien'), which Shubat describes as an "extra-dimensional sorcerer, body-suit of Brahman, rational empiricist, fool, gender fluid ghost through darkness, historical materialist, psychopomp and trickster." These days, Lailien's music has been featured on Sirius XM's IndieCan Radio as well the BBC Radio show Freak Zone, hosted by Stuart Maconie.
Earlier this month, Lailien released Ensoular, a multifaceted, inventive, and introspective collection of tunes which showcases a considerable extent of his creativity. Of the 26 songs on the album, I've decided to focus on certain highlights that especially resonate with me, as well as those that are solid contributors to the album's balance.
The epic journey begins with the album's lead single, "Blue Love," which aptly serves as a backdrop for when one's confidence reaches an apex, to the effect of being shrouded in an oblivious haze. The song's blissful synths are paired with feathery vocals, which (as the song's mythological breakdown ensues) become increasingly fragmented. While its first half is backed by a steadily bouncy kick and equally misty percussion, the second half goes freeform, as if the soul has lost momentum and is now falling into a seemingly infinite void. In a well-implemented transition, the fog unexpectedly clears to introduce "Elf Hat," a much more straightforward alt rock number in comparison, from a stylistic standpoint. At the same time, the song's thematic leanings are reality-based, centering on the struggles of fitting into society's current pace. I appreciate the fuzz-tinged accentuations on both the synth and guitar, and the bitcrushed solo really seems to further emphasize a sense of genuine fun about the creative process. Almost as quickly as the album's descent into reality, the transition mirrors a similar transcendental experience from "Smoky God" to "Lucifer." Further down, the current single, "Gingerbread Man" seems to serve as side one's representative electronic track, with a hook-laden beat and more streamlined delivery. The album's tone proceeds to teeter somewhere between dark and bittersweet, but its first side is capped in the hopefulness of "The Alphabet Queen." I find this song particularly resonant, as it gives the listener incentive to stay not only positive, but humble – not viewing the world as a myriad of foreign places, but as a singular resource to utilize.
"Millenials" starts the album's flipside on a lighthearted tone, prefaced by the distortion-drenched foundation. As a millennial myself, I can relate to the song's commentary about our generation's somewhat desensitized optimism, and how we've endured through constant, yet abruptly detrimental a disenchanting change. The beat is interesting, retaining another variant of bounce, but with a sharper bite, and, at some parts, cumbersome. But whether the latter came as a newly-appreciated aspect after a frustrating render or a fully intended quirk, it works nonetheless. Following those qualities more closely is "Snow White," a prog-influenced track playing through the motions of a meandering, hurdle-bound quest for love. After sifting through various scenarios, including one of reflection ("Blistering Sun," "Valentine") as well as a bleak twist on nostalgia ("Muffin Man"), the flow is executed well by continuing to head toward an uplifting wrap-up. The penultimate, "The King of Halloween," marks the last of the experimental direction, with a nuanced blend of abrasive electronica and shifts of adventurous percussion. On the final track "Heaven," there's an undertone of one's head being clear, as if the rest of their path insinuates smooth sailing. I found the main synth sequence pleasant and refreshing, like an ongoing, lulling drone that signifies the end of a day well-spent.
Overall, Ensoular is one of the more exciting and undoubtedly engaging concept albums I've heard in a while. Each song carries its own merit, while flowing tightly in emphasizing scenarios of endurance, hope, and ultimate growth. I have yet to see what a follow-up would sound like, especially to something of this magnitude. In the meantime, I recommend listening to this album fully, and with the best possible sound setup.
Lailien Socials:
Official Website|Instagram|Twitter