---
Louder Than Life, the popular rock festival that brings thousands of music fans to Louisville, KY every September, returns for it's 5th year from September 27th-September 29th. Due to massive flooding, the festival was unfortunately cancelled last year but returns this year better than ever.
This year sees the Highland Festival Grounds at The KY Expo Center as the new home for the festival, which in years past took place at Champion's Park. The festival is produced by the premiere independent festival producer Danny Wimmer Presents and will feature over 50 musical acts across three stages. It will also showcase the many award-winning bourbons, whiskey, spirits, craft beer and food that Louisville has to offer.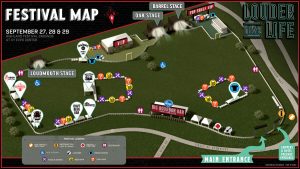 This year's line-up boasts an amazing mix of artists from Staind (their first live appearance in 5 years), Motionless In White, In This Moment, Suicidal Tendencies, Badflower, Godsmack, Ice Cube, Halestorm and headlining sets from Slipknot, Disturbed and Guns N' Roses. "We wouldn't be living up to the name Louder Than Life if we didn't come back bigger and badder than ever, giving fans something they can't see anywhere else," says festival producer Danny Wimmer. "Getting Staind back together and plugged in on the main stage is something that I've been working on for years. These are songs that need to be heard, that fans have been dying to hear. Staind has been one of the most requested bands on our socials, and it's an honor to be bringing their music back for the fans at Louder Than Life. Wimmer continues, "Slipknot has always had some of the most loyal, rabid fans in rock, but now they are at that pivotal moment when they've crossed over into iconic status; Disturbed has had their best touring numbers to date this year; then top it off with one of the biggest rock bands of all time in Guns N' Roses…this year is our most massive lineup yet."
---
Although there are many bigger and iconic bands to catch throughout the festival, check out the list below of other bands on the line-up to keep on your radar!
Los Angeles rock band Badflower formed in 2008 as The Cartunes, but after a line-up change in 2011, reformed as Badflower. Rising through the ranks of the LA club scene, the band signed with John Varvatos/Republic Records in 2015 and released their debut EP Temper in 2016. The album gained them the title of Apple Music's Artist of The Week and saw their first single from the album, "Animal", become a staple of active and alternative rock radio and a placement on the Billboard Mainstream Rock Chart. They have since performed at various music festivals and opened for bands such as Pop Evil, Of Mice and Men, From Ashes New and The Struts. In February of this year they released their debut full-length album Ok, I'm Sick via John Varvatos/Big Machine Label Group. The band is comprised of Josh Katz (vocals/guitar), Joey Morrow (lead guitar), Alex Espiritu (bass) and Anthony Sonetti (drums).
Florida post-hardcore band A Day To Remember formed in 2003 and are known for their unique blend of metal core and pop-punk. The band has released six studio album, with their seventh album to be released this year via Fueled By Ramen. They have toured with bands such as August Burns Red, Enter Shikari, Architects and Parkway Drive, have played Vans Warped Tour and performed on Jimmy Kimmel Live. Vocalist Jeremy McKinnon, along with his girlfriend, founded the Self Help Fest after she told him that "most people who come [to our shows] respond like it's more than just a concert to them… It's like the music is genuinely helping them. Thus we titled our festival Self Help, because at the end of the day, that's what music's all about." The inaugural fest was held in March of 2014″. The band is comprised of Jeremy McKinnon (lead vocals), Neil Westfall (backing vocals/rhythm guitar), Joshua Woodard (bass), Alex Shelnutt (drums) and Kevin Skaff (lead guitar/backing vocals).
Michigan metalcore band I Previal formed in 2013 and gained popularity after posting a cover of Taylor Swift's "Blank Space" on their YouTube page in December of 2014. The cover peaked at number 90 on Billboard's Hot 100 Chart and number 23 on the US Mainstream Rock Songs Chart. It was also featured as a bonus track on the Fearless Records release Punk Goes Pop Vol 6. The band has released one EP and two full-length albums and have opened for bands such as Pop Evil, Crown The Empire, Pierce The Veil, Neck Deep and Hollywood Undead. Their new album Trauma was released in March of this year and was the fourth best-selling album of the week in the US upon release. The first single from the album, "Breaking Down", hit the top 10 on Billboard's Mainstream Rock Songs Chart in May of this year. The band is comprised of Brian Burkheiser (clean vocals), Eric Vanlerberghe (scream/clean vocals), Steve Menoian (lead guitar/studio bass), Dylan Bowman (rhythm guitar/backing vocals) and Gabe Helguera (drums).
California thrash/skate punk band Suicidal Tendencies ​was formed in 1980 by Mike Muir, the only remaining original member of the band, and has been named one of the "fathers of crossover thrash". The band has released thirteen studio albums, two EPs, four split albums, four compilation albums and two long-form videos. Upon the release of their first album in 1983, the band found success with the album's first single "Institutionalized". The song was one of the first hardcore punk videos to have repeat airplay on MTV. Their subsequent albums were commercially successful, as well, with Controlled By Hatred/Feel Like Shit…Deja Vu and Lights…Camera…Revolution! receiving Gold certification by RIAA. The band broke up in 1995, thus parting ways with Sony and Epic Records, but reunited in 1996 and have continued to record and tour since then. Their most recent album and EP, Still Cyco Punk After All These Years (unreleased and re-recorded material) and Get Your Fight On!, respectively. They are in the process of working on a new album. The band is comprised of Mike Muir (vocals), Dean Pleasants (guitar), Ben Weinman (guitar), Ra Diaz (bass) and Dave Lombardo (drums).
Louisville , KY garage punk band White Reaper formed in 2014 and started out as a quartet comprised of Tony Esposito (guitar/vocals), Sam Wilkerson (bass), Nick Wilkerson (drums) and Ryan Hater (keyboard). Signed to Polyvinyl Records, they released their self-titled EP in 2014, with their debut album White Reaper Does It Again soon after in 2015. They later added guitarist Hunter Thompson and aimed for a big arena sound on a small budget with their 2017 album The World's Best American Band, an album that earned them plenty of critical praise. The band recently signed to the major label Elektra Records, and may very well be playing arena in the near future. As one of Louisville's most beloved bands, they have steadily gained a larger and larger fan base that has led to plenty of sold out shows when they go on tour due to an incredibly fun live show that sees Hater going wild on the keyboard, inflatable beach balls being tossed around the crowd and an occasional confetti canon adding to the fun. Their signing with a new label signifies that the best may be yet to come for the band and they are ready to take the band to the next level.
Kentucky ​hardcore punk band Knocked Loose formed in 2013, but vocalist Bryan Garris began playing with several of the members as early as 2011. They released their first studio material, and EP entitled Pop Culture, in 2014 on Little Heart Records and released their debut album Laugh Tracks in 2016 on Pure Noise Records. 2017 saw the band tour with Every time I Die in the US and UK, as well as play every date of the Vans Warped Tour, and in 2018 they embarked on their first headlining US tour. They will be releasing their new album A Different Shade Of Blue on August 23rd and will be playing a series of shows surrounding the album's release before heading out on their US/UK/European tour. The band is comprised of Cole Crutchfield (rhythm guitar/backing vocals), Bryan Garris (lead vocals), Isaac Hale (lead guitar/backing vocals), Kevin Otten (bass), Kevin "Pacsun" Kaine (drums).
Frank Carter & The Rattlesnakes
English punk band Frank Carter & The Rattlesnakes formed in 2015 by former Gallows and Pure Love frontman Frank Carter. They have released an EP and two albums, Rotten, Blossom and Modern Ruin, in May of 2015, August of 2015 and September of 2016, respectively. While Blossom saw Carter return to his punk rock and hardcore roots, Modern Ruin saw him explore the alternative rock sounds of Pure Love, but in a much darker way. The band recently released their latest album End Of Suffering that addresses mental health issues head on and adds some melodic elements to their punk rock sound. The band has found increased success since their inception, with Carter being dubbed one of the more dynamic performers on the current rock scene with the band consistently performing high-energy sets when they tour. They will be setting out on tour beginning September 23rd. The band is comprised of Frank Carter (vocals), Dean Richardson (guitar), Tom "Tank" Barclay (bass) and Gareth Grover (drums).
​LA rock band Dirty Honey exploded onto the scene in 2017 and have been named and iHeartRadio On The Verge Artist. They have been gaining plenty of attention with their classic rock n' roll sound, playing music from what they call the "vinyl prime era" that blends sounds from the 70's, with a bit from the 80's, 90's and the modern era. Blending the sounds of AC/DC, The Black Crowes, Aerosmith, Guns N' Roses and Led Zeppelin, they have gained the attention of bands such as Guns N' Roses, The Who and Slash & The Conspirators who have had Dirty Honey open shows for them. They released their debut EP last year, a set of songs that were recorded with producer Nick DiDia (Rage Against The Scene/Pearl Jam) in Australia, and are currently working on new music and gearing up for a tour that includes plenty of festivals. The band is comprised of Marc LaBelle (vocals), John Notto (guitar), Justin Smolian (bass) and Corey Coverstone (drums).
LA synth-pop/punk band The Pink Slips ​define their sound as a fusion of synth-pop, punk, dance and vintage rock n' roll. The band is led by Grace McKagan's clever and powerful alter-ego Grave and blends the spirit of Ziggy Stardust, Alice Cooper and CBGBs with their own modern sound. Starting out in iconic LA venues such as The Viper Room and The Troubador, the band combines the pin-up appeal of 50s American rock, the sleekness of 60s French pop, the energy of 70s punk and the dark romanticism of 80s new wave. Drawing comparisons to Blondie, The Kills, Iggy Pop and David Bowie, The Pink Slips are definitely riding the wave of success. The band is comprised of GRAVE [(Grace McKagan) lead vocals], Trent Peltz (keys/back up vocals), Keenan Bevans (drums) and Desi Scaglione (guitar).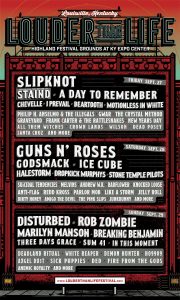 You can follow Louder Than Life Festival and stay up-to-date with all festival news, as well as purchase tickets, via links below.
Purchase Tickets | Official Website | Facebook | Instagram | Twitter | Spotify