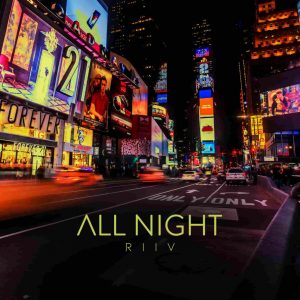 Joseph Riverson is an up-and-coming singer/songwriter, originally from Haiti and based in Connecticut. Under the artist name RIIV, Riverson has overcome numerous odds to make it in music, an effort that has steadily paid off since his initial pursuit back in 2015. Following the success of last year's single, "Beautiful," which draws largely from R&B and guitar influences, Riverson's latest effort, All Night, benefits just as well from its newly streamlined pop approach.
As the EP opens on "Love and War," I appreciate the gradual integration of the song's vibrant, psychedelic synth buildup. RIIV instantly proceeds to command the track with what seems like a straight-ahead form of belting out. However, the track progresses in such a way that each of its components is clear in the mix. It's refreshing to hear a guitar melody in the midst of the involvement, especially one that's subtle, yet melodically impactful. From a thematic standpoint, the song represents the constant shift between times of romanticized highs, and the bleak strain that nudges one back into reality. Initially, I assumed that the next two tracks, "Lost Without You" and "Lost in This World" were presented as filler material. While listening to them in succession, though, I realized that they effectively represent two separate scenarios of loss that are thematically sensible. 'Without You,' for instance, features an upbeat arrangement centers on a struggling, yet optimistic hope of rekindling a romantic relationship. On the latter track (and, to an extent, the following track, "It's Over" that sentiment extends to the loss of loved ones, and is thus bolstered by more involved instrumentation representative of the impact.
The flipside starts with "Heaven," which maintains the straight-ahead features of the EP's introduction. Alongside its hook-driven beat, the fluency emitted from the clean guitar serves as a constant factor in pacing the song. From there, the representative title track does its part at bringing the album art to life, its buildup suggesting imagery of a blissful, constantly moving, neon-lit city. There's a nice breakdown toward the latter part of the song, that, even with its brief prominence, is well-mixed within the rest of the instrumentation. From the penultimate "I Don't Wanna Know" to the final track, "Never Let Me Go," the personality of each continues on a similar note, as textural synths and dominant bass grooves carry the atmosphere. At the same time, a renewed sense of emotional strength that builds through the progression, putting a solid cap on the EP's presentation.
Overall, All Night marks the honest beginnings of RIIV's fleshed out musical identity. While taking on a more mainstream sound, RIIV aims to showcase a fair amount of talent and thematic succinctness, as well as distinctive creative merit within the EP's structure. There's definitely something here, and only time will tell when RIIV reaches his full artistic potential.
RIIV Socials: