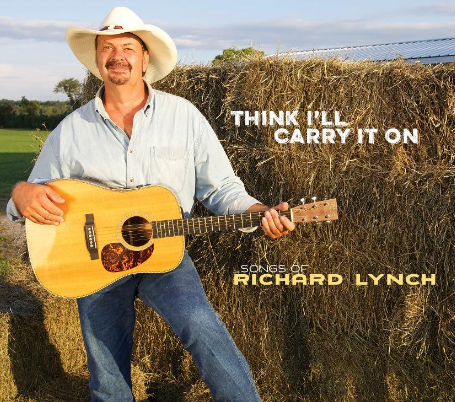 Richard Lynch is one of those cases of musicians that truly embody the type of music that they play and believe in what they sing about, often delivering great albums and great performances. A few months ago, the Ohio-based Country musician released Think I'll Carry It On, which I find to be one of his most cohesive and even accessible works so far–you don't have to be a big Country fan to get into this album and that is a great strategy on Lynch's part.
For example, songs like the opener, We're American Proud, not only puts you in the mood right away since it's a terrific track, but it also shows Lynch wearing his views and feelings on his sleeve, which is one of his biggest strengths as a musician, in my view: he's not afraid of speaking his mind. It's an explosive track, as far as Country goes, and it sets the mood for the rest of the venture.
The second song, Love Tattoo, is a fantastic duet with Ronnie McDowell, whose unique vocal style adds another layer to the song and makes the whole ballad flow with a very interesting approach. Pray on the Radio has a very entertaining element with the gospel.
The duet that Lynch does with Leona Williams on Another Honky Tonk Song deserves all the praises that it gets because the way the two of them combine such characteristic vocal styles is phenomenal, and it truly gives this song a whole vibe of their own. You Can't Stay Here and The Old Feed Store are classic Richard Lynch Country songs; here we hear the seasoned musician that has been there, that has done it all, and delivers a very solid performance in which he showcases that raw mixture of classic Country and Western music that he loves so much.
I really like how Back in 1953 seems to take a pause and give the song a little more room to breathe, thus making a more reflective song in that regard. Then we have Donna Lynch coming on stage with Keyboard Cowboy, which is a fun track, but I think we have already heard better songs in the album so far.
Fast Times and Easy Money has a strong Rock and Roll influence that I value a lot because it reminds me a bit to those Chuck Berry songs in the 1950s, which is another interesting influence on Lynch's part. I am personally a huge fan of quality guitar work and what was done in tracks such as Daddy's Guitar and One Breath Away is just remarkable, quickly becoming two personal favorites of mine in the whole thing.
I have to say that I find ending the album with They Don't Play 'Em Like That a very solemn strategy. I can't put my finger on it, but I think this song is Lynch's way of describing the general state of Country music these days and seems like a love letter to what made him fall for the style as a whole. I'm probably wrong, but that's what I get every single time I listen to this song.
Overall, I Think I'll Carry It On is a very solid album that doesn't have a weak or bad song and it truly shows Lynch's passion for Country and music as a whole. So if you're looking for a quality album that is the done the right and honest way, this is the one for you.
–Kevin Tanza