---
At just twenty-six years of age, J.S. Ondara has already had plenty of experience learning from the best that folk music has to offer. Having toured with Neil Young, Lindsey Buckingham and making a Newport Folk Festival appearance, you wouldn't think the Kenyan native grew up not knowing who Bob Dylan was. It wasn't until his late teens he discovered arguably the best songwriter of all time, and it was a simple twist of fate that saw him blowin' in the wind all the way to America. We chatted with J.S about the evolution of folk music, what he has learned from the legends and his exciting new projects for the rest of 2019.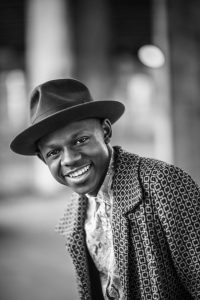 When first listening to Ondara, you wouldn't imagine a young boy from Nairobi growing up on music like Guns N' Roses, Nirvana and Radiohead. A self-proclaimed "music weirdo", he wasn't introduced to folk music until his teenage years. One day he was arguing with a buddy over who the original songwriter was for "Knockin' on Heaven's Door". At first, the idea of a folk singer named Bob Dylan penning the lyrics (opposed to Guns N' Roses), was absolutely absurd to him so he put money on it. Soon enough he was short 100 Kenyan Shillings (about $0.97 USD), but what he gained was worth so much more. It was then he discovered his musical obsession, Bob Dylan.
After realizing his fate as a folk singer, J.S. Ondara would be taking the plunge and moving to Minneapolis, Minnesota to follow in the same footsteps as his musical hero. It's here where Ondara began his music career after signing to Verve and releasing his debut album, Tales of America. His album provides melodic and poetic folk music, perfect for any road trip playlist or a Sunday afternoon at home. When listening to the entirely acoustic set of songs, it's hard to believe he didn't pick up the guitar until after his move to Minneapolis at age 20.
One of the inaugural tracks he learned to play on the guitar was Neil Young's classic, "Heart of Gold". Ondara was lucky enough to open for the Canadian legend earlier this year for a few dates across Seattle and Oregon, and took the opportunity to learn everything he could. "Watching them play every night, seeing just the passion that comes out every night, doing that for decades and decades and still the excitement is still there…I thought that was very admirable".
The versatility of Neil Young throughout his career is also an inspiration for Ondara, who wants to keep evolving his music and experiment with his sound on upcoming records. "I admire that fact about Neil being able to move around folk and rock music, and Dylan the same way, that's something I will definitely explore as I keep making more records in the future".
Fans of Ondara have already had a glimpse into his love of rock music if they've ever attended one of his live shows. The singer has been known to cover Nirvana's, "Smells Like Teen Spirit", where his soft and eclectic version of the track makes the song almost unrecognizable. His hauntingly beautiful and melodic rendition of the famous Nirvana tune is a bonus to any set. "I mean I don't do too many covers, but I do covers a songs that have been pivotal in my sort of musical voyage, the songs that led me to who I am today, 'Smells Like Teen Spirit' is one of them for sure".
Since then Ondara has been on the road for a string of dates alongside former Fleetwood Mac guitarist Lindsey Buckingham, and has been announced as a featured artist on Robbie Robertson's recently announced new album. The legendary creative force behind The Band, and former Bob Dylan collaborator, will be releasing Sinematic, to coincide with the release of his two latest film projects.
Robbie Robertson found new inspiration by contributing his musical talents to Martin Scorsese's upcoming Netflix drama The Irishman, staring Robert De Niro. Secondly, Robertson's album was also inspired by the work on a new documentary premiering this fall, regarding his time with The Band. Once Were Brothers: Robbie Robertson and The Band will open up the 2019 Toronto International Film Festival (TIFF) and includes the title track "Once Were Brothers", featuring J.S. Ondara.
When asked about collaborating with the folk music legend, Ondara was nothing but humble, "It means a lot to be in the same room as Robbie and to listen to all the details of what it used to be like in the 70's, making records and hanging out with Dylan…. to be involved in a cooperative fashion on top of all that is a great honour and privilege…. I think it is something I will remember and learn from for the rest of my career".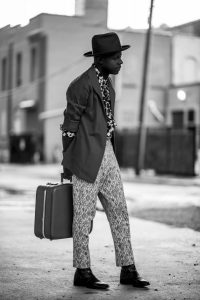 Going forward, Ondara wants to evolve his music from telling the American story to talking about more global issues, "I definitely don't want to make the same record again, I already talked about the tales of America and I'm keen to explore different issues from a "global" perspective on the next LP, but I think the influence from Tales of America is still going to be there".
 While touring, he tries to find time to record whenever possible, and has taken a new found love to Europe, "I've done some recording in Paris already and some in LA again…. I've grown very fond of Paris and spend a lot of time there now".
Remaining this year, he has a series of headlining shows across North America, a tour of France and a few festival appearances, including the Edmonton Folk Music Festival this weekend. To end his whirlwind year, Ondara will play a show in Minneapolis, which is sure to be quite the homecoming event for the rising star.
J.S. Ondara is bringing a newfound light back into folk music and is doing so full of heart and soul. He's told his story on Tales of America and is now looking for a new chapter to write.
Catch J.S. Ondara on Tour: 
Aug 11 – Edmonton, Canada – Edmonton Folk Music Festival
Sept 13 – Harrisburg, PA – XL Live
Sept 14 – Burlington, VT – Waterfront Park
Sept 28 – Eveleigh, Australia- Zone Out International Music Festival
Oct 10 – Portland, OR – Aladdin Theatre
Oct 11 – Vancouver, Canada – Wise Hall
Oct 13 – Seattle, WA – Capitol Hill Block Party
Oct 17 – San Francisco, CA – The Independent
Oct 18 – Los Angeles, CA – The Troubadour
Oct 19 – Los Angeles, CA – The Troubadour
Oct 21 – Denver, CO – Bluebird Theatre
Oct 24 – Chicago, IL – Lincoln Hall
Oct 25 – Holland, MI – Park Theatre
Oct 26 – Toronto, Canada – The Mod Club
Oct 27 – Montreal, Canada – L'Astral
Oct 29 – Philadelphia, PA – World Cafe Live
Oct 30 – Washington, DC – 6th & I
Nov 1 – Cambridge, MA – The Sinclair
Nov 2 – Brooklyn, NY – Music Hall of Williamsburg
Nov 26 -Orleans, France – L'Astrolabe
Nov 27 – Paris, France – Élysée Montmartre
Nov 28 – Dijon, France – La Vapeur
Nov 29 – Mulhouse, France – Noumatrouff
Dec 7 – Minneapolis, MN – Frist Avenue
Follow J.S. Ondara: