REO Speedwagon returned home to a sold-out crowd at the Rosemont Theatre on Saturday, August 3rd, and delivered a 2+ hour show full of hits, energy, and fond musings from front-man, Kevin Cronin, about REO's past and life in general.
The aforementioned Cronin made a joke early on in the show about many people in the crowd probably knowing him from high school. But the joke was not so much a reference to the fact that the show was in the greater Chicago-land area where Cronin grew up, but a poke of fun about the average age of the crowd, which seemed to be at least in the mid 50's.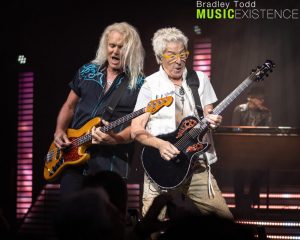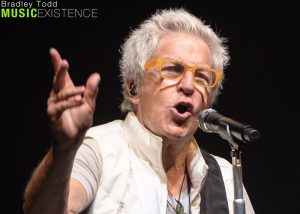 While many of the songs the band performed are also getting on in years, they're far from over the hill. To the contrary, REO's rock hits crafted from their inception in 1971 through 1980 are a perfect blend of catchy rock hooks and sweet melodies that are timeless. Songs like Don't Let Him Go, Time For Me To Fly, Ridin' The Storm Out, and Roll With The Changes had the crowd on their feet rocking out like they were back in their teenage years. The later ballads had their place in the set as well, but it was the rockers that drew the best reaction.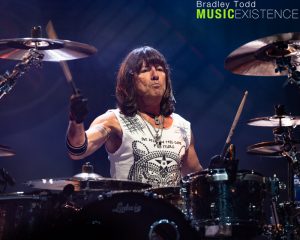 The band performed with precision and accuracy that decades together engenders – the newest members to the group, guitarist Dave Amato and drummer Bryan Hitt, joined in 1989 – but the camaraderie amongst all of them stood out and gave the show a friendly feel. While Neal Doughty, the only founding member remaining in the group, switched sides of the stage as he rotated playing keyboards and piano, nobody seemed the be having more fun than bass player, Bruce Hall, who wore a perma-grin as he interacted with his bandmates and audience alike. And lead singer, Kevin Cronin's, tales and anecdotes about the band's history and his appreciation for the life that music has given him added a special touch to the evening.
GALLERY BELOW SETLIST
SETLIST:
Don't Let Him Go
Music Man
In Your Letter
Keep Pushin'
Can't Fight This Feeling
Tough Guys
Son Of A Poor Man
Someone Tonight
I Wish You Were There
Golden Country
Building The Bridge
Take It On The Run
Time For Me To Fly
Back On The Road Again
Ridin' The Storm Out
Keep On Loving You (Encore)
Roll With The Changes
157 Riverside Avenue