A local NYC band Slashers have been making quite the name for themselves, a staple band in the local skateboard community, the band last year played its biggest show to date putting themselves in front of a much larger audience opening for Sick of it All and Pennywise at House of Vans in Brooklyn. The band was formed band in 2017 by drummer Shane Medanich (Hightower) and guitarist Blake Charlton, with the idea to have a band of only skaters. Medanich said "I'm starting a band with Blake and it's called Slashers (which was named Charleston) and you have to skate to be in the band". Medanich and Charleston would later be joined by bassist Jesse Adelson, and vocalist James O'Brien. Slashers is a band of four friends all living in Brooklyn that share the same passion for skateboarding and music alike. With a fun aggressive mix of thrash and punk on songs like "Skatecation", "Five Mile Grind", and "If You Don't Skate Now You Never Did" the bands skateboarding roots truly shine. Slashers has just released their debut self titled full length record today along with an animated video by Dylan Goldberger for "Five Mile Grind". The band will be playing two different record release shows in Brooklyn this weekend where you will be able to pick up your own venal copy of Slashers.
Watch Video:https://www.youtube.com/watch?v=rkTWu-n8oQQ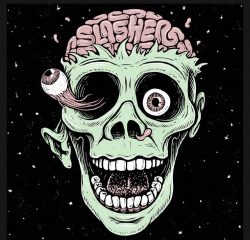 2 nights, 2 ripping shows!
Friday, August 2nd
Saint Vitus Bar
1120 Manhattan Ave
Brooklyn, NY 11222
8pm – FREE! Part of Heavy Metal Vomit Party
with Replicant and Bowel Erosion
Saturday, August 3rd – w Witch Slap
110 Studios
110 Troutman St.
Brooklyn, NY 11206
9pm – $3
For More Info About Slashers