Fast-rising North Carolinian instrumental progressive metal band
Anamorph
recently announced the upcoming release of their ambitious, otherworldly full-length album,
Lucid
, out
September 6
, 2019.
Lucid
, which was recorded by renowned producer Jamie King (
Between the Buried and Me, Scale the Summit, The Contortionist
), is available for pre-order now via the band's
website
,
Bandcamp
and
iTunes
, and the album will be available to stream upon release via
Spotify
.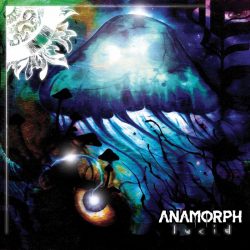 Lucid track listing:
1. Reverie
2. Myopia
3. Hubris
4. Fading Azure
5. Twilight's Somber Gaze
6. Feasting a Ravaged Earth
7. Breakthrough!
8. Endogenous Change
9. Sublimate
10. Overcome
11. Civilized Sociopath
12. Catharsis
13. In Time
Bassist Griffin Daniels says: "When it comes to bass, "Overcome" takes place all over the fretboard. Both my right and left hands put forward a massive amount of work throughout the entire song. Overall this is one of my favorite songs from the album, and there wasn't another choice that could've fit bass better. From the pirate-like beginning, to the technical hectic side of the middle, and finally getting sent off with the big epic phrase at the end, this song is a whirlwind of techniques and musical feeling."
The video was filmed in Umstead State Park in Raleigh, NC, and behind Griffin is the base of a tree that was once nearly 100 feet long, dating back at least a century. Rather than letting the tree rot after it fell, a park ranger hired artists at Smoky Mountain Art to use chainsaws to create the art seen now. Turned slightly orange by Australian timber oil, the old oak features 20 feet of carvings.