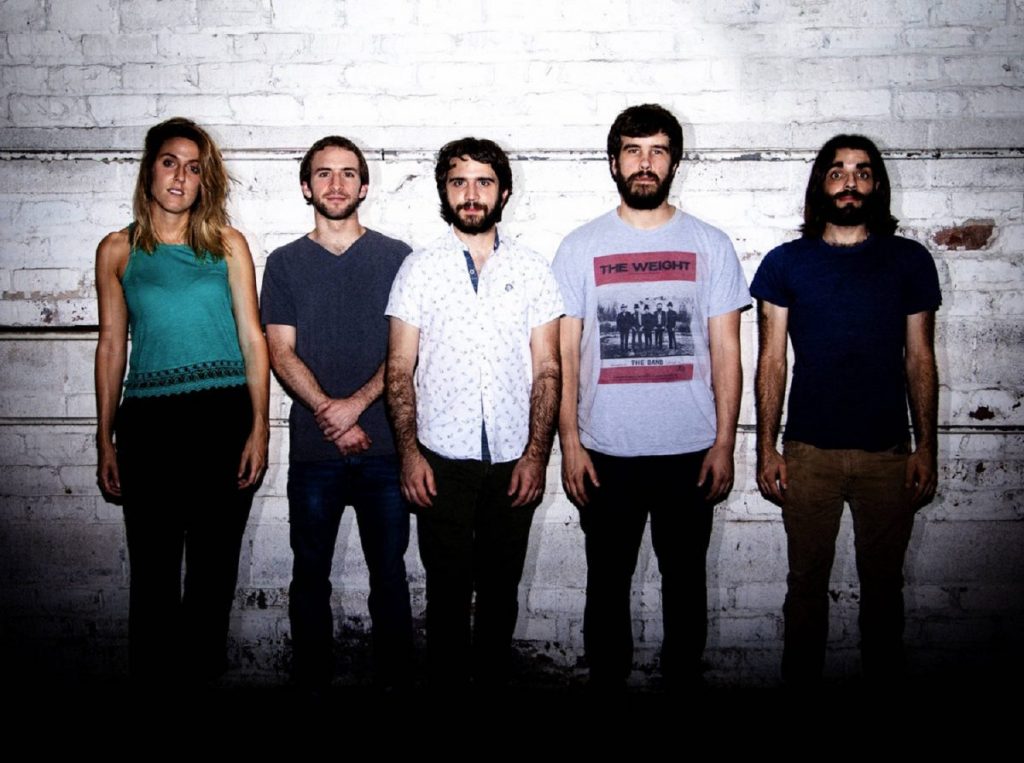 With the stomp of an ancient tribal drumbeat, "Permanent Vacation," one of the five songs comprising Biglemoi's all-new record of the same name, comes slinking into focus, sporting a swaggering rhythm in its chilling swing. A heavy wallop of strings follows this stoic introduction, and soon we're met with a soft vocal whispering enigmatic sweet nothings to us in an intimately tender drawl. The music in the background is highly evocative, full of mystique and larger than life in tone, but what we find in this stunner of a song is only the tip of the iceberg in terms of what Permanent Vacation has to offer us. In the heavenly "Sola," pop song structures and traditional hooks are left on the sidelines as Biglemoi replaces them with post-genre surrealism that occasionally stretches into Pink Floydian space rock every now and again. Fans who were hoping for a mainstream sound from this group following their debut release needn't waste their time with this boldly erudite record from the acclaimed NOLA rock syndicate, who have just elevated their game with the release of this sophomore EP.
BUBBLE BATH RECORDS: https://www.bubblebathrecords.com/biglemoi
There's a lot of raw anxiety as "Joyride" gets us rolling at the start of the record, represented almost completely in the jittery fretwork that lines the pre-lyric intro to the song. On the contrary, "Other Side," which brings Permanent Vacation to a close, seems to bask in its own frustrations, using a vocal hook to hold together a fragmented instrumental melody, forcing us to tune-in to all of the intricate harmonic details underscoring every verse. Whether they're being complex or as simplistic as an experimental rock band can get, Biglemoi's chemistry is clicking like never before in this extended play, and you could even make the case that they sound like a totally different band than they did in their self-titled virgin release. Their approach to constructing both catchy hooks and accessible lyrics has matured beyond what I had hoped to see here, and though I enjoyed their first record's broadminded stylization, it just can't compare to the intrepidness of this most recent selection of songs.
The crown jewel of Permanent Vacation, as I see it, is its second single after "Joyride," "Decipher," a blistering punk rock anthem that comes out of nowhere and demolishes anything that gets in its path. This track has the fine lines of a Loveless-era My Blood Valentine tune with the rebelliousness and aggressive edge of a contemporary American punk sound, and its cocktail of texture and tone makes its parent record an essential acquisition for alternative enthusiasts everywhere this summer. Biglemoi are bolstering their underground identity with a firmly experimental twist in the sound that they introduced to us some four years ago here, and if there were any critics concerned with the group selling-out to the mainstream in the sequel to their lauded debut, I think that Permanent Vacation should suffice in culling their worries once and for all. This band is going places, and once some of these tracks get into rotation in the college radio market, calls for a full-length album are going to be hard for them to ignore.
AMAZON: https://www.amazon.com/Permanent-Vacation-Biglemoi/dp/B07RGB465G
Loren Sperry